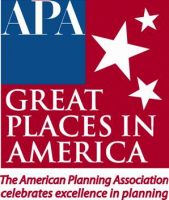 APA Recognizes the 2016 Great Places in America Designees
APA's annual list recognizes 15 Great Neighborhoods, Streets and Public Spaces
WASHINGTON, DC — The American Planning Association (APA) today announced the country's 15 Great Places for 2016 through the organization's national flagship program, Great Places in America, which marks the kick-off of APA's National Community Planning Month celebration.
As part of National Community Planning Month, Great Places in America recognizes unique and exemplary streets, neighborhoods, and public spaces — three essential components of all communities. These authentic places have been shaped by forward thinking planning that showcases affordable transportation options, promotes community involvement and accessibility, and fosters economic opportunity.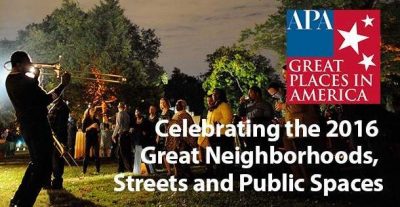 "Our Great Places in America designees reflect the many facets that make up planning, including community engagement, economic benefits and quality of character," said Carol Rhea, FAICP, president of APA. "These exemplary neighborhoods, streets and public spaces showcase the positive outcomes when a community works together to create communities of lasting value. It is an honor to recognize these outstanding places during National Community Planning Month and add to our distinguished list of great place designees."
APA Great Places offer better choices for where and how people work and live every day. They are defined by many characteristics including architectural features, accessibility, functionality, and community involvement. Since launching the Great Places in America program in 2007, APA has recognized 260 neighborhoods, streets, and public spaces around the country.
Again this year, APA is seeking further input from the public for the "People's Choice" designee. Citizens can nominate their favorite Great Place by commenting on APA's Facebook page, Twitter or Instagram feed using hashtag #APAgreatplaces. The "People's Choice" Great Place designee will be announced on November 2.
The 2016 designees, listed below, are not ranked.
2016 Great Neighborhoods
Downtown Santa Ana – Santa Ana, California
Midtown Atlanta – Atlanta, Georgia
Old Louisville – Louisville, Kentucky
Nob Hill – Albuquerque, New Mexico
Downtown Warren – Warren, Rhode Island
2016 Great Public Spaces
Golden Heart Plaza – Fairbanks, Alaska
Central Park Plaza – Valparaiso, Indiana
Findlay Market – Cincinnati, Ohio
Guthrie Green – Tulsa, Oklahoma
Fairmount Park – Philadelphia, Pennsylvania
2016 Great Streets
Sherman Avenue – Coeur d'Alene, Idaho
Main Street – Ketchum, Idaho
South 24th Street – Omaha, Nebraska
Arthur Avenue – Bronx, New York
Main Street – Davidson, North Carolina
More information about National Community Planning Month is available at: www.planning.org/ncpm.
The American Planning Association is an independent, not-for-profit educational organization that provides leadership in the development of vital communities. APA and its professional institute, the American Institute of Certified Planners, are dedicated to advancing the art, science and profession of good planning — physical, economic, and social — so as to create communities that offer better choices for where and how people work and live. APA has offices in Washington, D.C., and Chicago with almost 38,000 members worldwide in nearly 100 countries. For more information, visit www.planning.org.