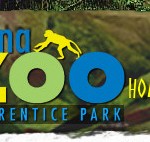 The City of Santa Ana has changed their Santa Ana Zoo free day, after much pleading, to the third Sunday of the month.  This month they will honor the previous free day, which is coming up this Tuesday, but will also offer a free day on Sunday, July 18.  These free days are for residents of Santa Ana.
This is great news for Santa Ana's working families.  I have pointed out for some time the fact that holding the free day on a Tuesday, when the Zoo closes at 5 pm, was a poor policy as it prevented many families in town from enjoying this benefit.  Now they will be able to visit on a Sunday, when many residents have the day off, instead.
I would like to thank Santa Ana's Parks and Recreation Agency Director Gerardo Mouet for making this happen.  Credit should also be extend to our city administration and to our City Council.  And I would be remiss if I did not mention Kent Yamaguchi, the Zoo Director, who has worked with Mouet to implement this much-needed change.
Mouet has had a heck of a time the past two years trying to slash his budget while still improving services.  I think he has succeeded for the most part.
I am hearing rumors that the City of Santa Ana might move to set up the Zoo as a private enterprise, via a foundation.  The Zoo is already effectively run by a non-profit, the Friends of the Santa Ana Zoo.  Most likely they would continue to operate the Zoo, acting as a managing foundation.
The Friends of the Zoo do a fine job.  I am concerned about their lack of diversity, but they do put together a lot of programs that reach out to our diverse communities.  Long term I hope that they do move to add more ethnic minorities to their board of directors.  Currently they have only one Latino on their board and maybe one Asian.  All of their executive officers are white males, except for woman.