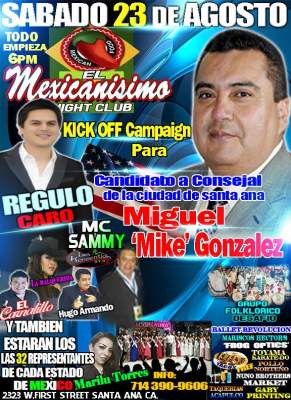 Mike Gonzalez, a candidate for Ward 6 on the Santa Ana City Council, is hosting his Campaign Kick-Off on August 23, 2014, at 6 pm, at the nightclub/restaurant he owns, Mexicanisimo, located at 2323 W 1st St, Santa Ana.
The MC for the event is "Sammy" and various musical artists will be there including Regulo Car, Hugo Armando, and Grupo Folklorico Desafio.
Gonzalez owns a security guard company as well.  He is a licensed security guard instructor as well.  Click here to see his Facebook page.
Gonzalez' Bio: Continue reading→