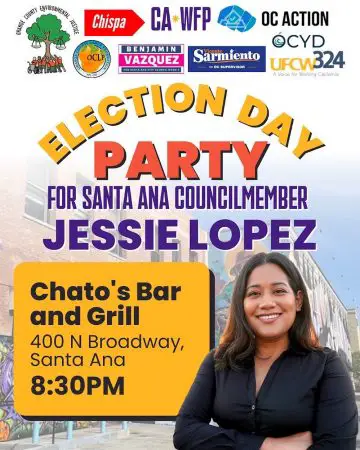 The early voting results show that Santa Ana Mayor Pro Tem Jessie Lopez is beating the attempt to recall her in Santa Ana's Ward 3.
Less than 6,000 ballots were cast. That is a 22 % voter turnout. You had to figure that the folks who supported the recall would all vote early – which means the early results probably mean that the recall is doomed to fail.
In total so far 2,628 voters supported the recall while 3,254 were opposed. That is a difference of 626 votes.
On Election Night, which was yesterday, the OC Voter Registrar estimated there were still 444 estimated ballots left to process. Even if they all vote yes on the Recall, the votes are not enough for the Recall campaign to prevail.
There were more than 27,000 ballots mailed out to Ward 3 residents.
The dastardly Santa Ana Police Officers Association bankrolled the Recall to the tune of more than $660,000. That means they paid over $250 for each yes vote. Even worse the Recall cost the City of Santa Ana a fortune – probably almost a million dollars. That is money that could have been spent on public needs such as public safety, parks, etc.
This embarrassment should be the final nail in the Santa Ana Police Officers Association's coffin. Any candidate that takes their dirty money in the future will risk hurting their image in the public eye.
As for Lopez she will have to run for reelection next November. Her success against the Recall shows that her opponents may have a tough time beating her.
So what happened? The reality is that the numbers of Lopez bashers in Ward 3 have been greatly reduced in the past four years. Her antagonists tend to be much older. Some have died and many have moved away. Ironically when they move they rarely sell their homes – opting to rent the out instead. The folks moving in to Ward 3 now are younger and more divers and as renters are more likely to support Lopez, who spearheaded rent control in Santa Ana.
Lopez has show herself to be quite resilient and is a very hard worker. We congratulate her on her apparent victory.