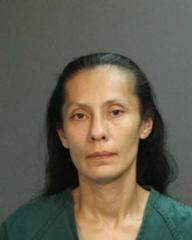 Santa Ana Police Department Advisory: Officer Involved Shooting Update – 800 S. Townsend
SANTA ANA, CA (June 24, 2013) – On 6/23/13 at approximately 0805 hours, two officers were patrolling the area of 800 S. Townsend. During this patrol check, an officer encountered a female in the alley and an officer involved shooting occurred. The female was struck and was taken to a local hospital where she succumbed to her injuries at 0855 hours. It was later learned that a replica firearm was located near the female's body after she was taken into custody.
On 6/24/13, the Orange County Coroner's office notified the suspect's next of kin and confirmed the female's identity, as that of 35-year old Jessica Gonzalez. Gonzalez was also confirmed as the same suspect wanted in connection with Orange Police Department's recent homicide.
No further information is available at this time.
####
City of Orange, Police Department
News Release, For Immediate Release: June 20, 2013
On June 20, 2013, at approximately 3:30 pm., officers from the Orange Police Department responded to the 2000 block of E. Palmyra Ave. regarding a call of a shooting that had just occurred. Upon arrival, officers located a female adult with gunshot wounds, on the sidewalk near the apartment complex. The victim was transported to a trauma center by Orange Fire Department Paramedics. She later died at the hospital. The victim's identity is being withheld pending notification of next of kin.
The suspect fled the scene on foot. Through our initial investigation we have identified the suspect as 35 year-old Jessica Gonzalez. Gonzalez and the victim knew each other. The extent of their relationship or what led to the shooting is under investigation.
Anyone with information is asked to call Detective Scott Trausch at 714-936-1204.
Jessica Gonzalez
Age: 35 years old Residence: Santa Ana
5'5" / 90 lbs.
Last seen wearing black sweatpants and a black long sleeve shirt.
Gonzalez is considered ARMED AND DANGEROUS.
# # #