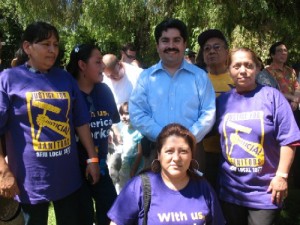 Will Solorio lead the charge for a union-only PLA on Measure Q projects?
The Rancho Santiago Community College District's Board of Education will be quite different once their new Trustees are sworn in.  For the first time that I can remember the Board will be majority Latino with only two holdovers in Phil Yarbrough and John Hanna.
The rest of the Trustees are Latinos – Arianna Barrios; Nelida Yanez; Jose Solorio and Claudia Alvarez.  Three of them are Democrats. Barrios however is an independent who is very tight with the Orange County Republicans – and she does public relations work for Anaheim Council Member Kris Murray, another Republican.
Yarbrough is also a Republican and Hanna is a Democrat, although both he and Barrios have endorsed Republicans such as U.S. Representative Ed Royce in the past.
The lot of them will soon have to make a decision about the successful Measure Q – a bond measure that will provide funds to Santa Ana College, which was shortchanged by the last RSCCD bond, Measure E, which was used mostly on the Santiago College campus and on a Deputy Sheriff's training center our county simply didn't need.
The RSCCD Trustees passed a union-only Project Labor Agreement (PLA) after Measure E was approved by the voters.  The PLA banned non-union contractors from bidding on RSCCD construction projects that were funded by Measure E.  I fought the PLA and Hanna later admitted to me that the PLA was a disaster – it increased construction costs and delayed the projects.  An estimated fifty million dollars were wasted by that PLA.  You can read more about that here.
I suspect the only votes against the PLA will come from Yarbrough and Barrios and possibly Hanna, who told me that he would never again vote for a union only PLA.
The rest of the Trustees are fairly beholden to labor, particularly Alvarez and Solorio.  The writing is on the wall.  They are going to vote to waste taxpayer money yet again, with a union only PLA on Measure Q projects.  I hope I am wrong.