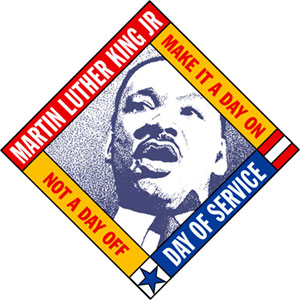 FOR IMMEDIATE RELEASE
Volunteer Center Orange County Plans to Honor Dr. Martin Luther King Jr. Day with Annual Day of Service
MLK Day Activities Respond to both Local Needs and Supports Haiti Earthquake Victims
(Prior to OneOC's September 15th Brand Launch)
SANTA ANA, Calif., Jan. 13, 2010 – A series of events to acknowledge the life and legacy of Dr. Martin Luther King, Jr. are planned for Monday, January 18, 2010, as Volunteer Center Orange County mobilizes volunteers community-wide to engage in its annual day of reflective community service. The 50-year-old organization is again collaborating with other local nonprofit agencies to organize projects that offer volunteer opportunities and trainings addressing critical community issues of hunger, literacy and environmental protection. This popular annual event is booked to capacity with over 1,000 volunteers participating.
Employees from PIMCO will be making their day off, a day "on of service" as they pack disaster relief kits for Giving Children Hope. Giving Children Hope is responding to the disaster in Haiti by sending pharmaceuticals, water purifiers and other medical supplies to bring relief to the victims.
"We hope that volunteers will join their friends, neighbors and co-workers in giving something back to the community in honor of the example set by Dr. Martin Luther King, Jr.," said Daniel J. McQuaid, VCOC President and CEO.
Following are the event details:
Saturday – Habitat Restoration with Inside the Outdoors 8755 Santiago Canyon Rd. Silverado
Agency: Inside the Outdoors, OCDE
Impact Areas: Environment
Project Description: The project location is at an environmental education facility on Santiago Canyon Road bordering the Cleveland National Forest. The project includes non-native plant removal and planting native plants. For individuals that cannot do physical activity but still want to volunteer there is an option for painting on tree cookies (slices taken from tree branches).
Saturday, January 16, 2010, 8:30AM-12:30PM
Monday – Giving Children Hope: Sorting and Packing for Disaster Relief 8332 Commonwealth Avenue, Buena Park
Agency: Giving Children Hope
Impact Areas: Disaster Relief Services, Children & Youth
Project Description: Donated Medical Supplies need to be sorted on a daily basis. These supplies travel all over the world to small villages and needy hospitals and orphanages. Doctors need these supplies to open small clinics in underserved communities.1. Sort food and stuff backpacks with food for OC's homeless children. 2. Sort medical supplies for disaster relief. 3. Landscaping. 4. Disassemble equipment. Employees from the Newport Beach office of PIMCO, a global investment management firm, will be participating Monday morning.
Monday, January 18, 2010, 9:00AM-11:30AM
Monday, January 18, 2010, 1:30PM-4:00PM
Harvesting for the Hungry RAIN ALERT – If it rains, this project will be canceled.
Agency: Second Harvest Food Bank/Society St. Vincent de Paul 15058 Harvard Avenue, Irvine
Impact Areas: Homelessness/Hunger
Project Description: Join Volunteer Center Orange County on MLK Day 2008. Volunteers will harvest crops that provide fresh food for the hungry in Orange County. "Harvesting for the Hungry" will take place at the Second Harvest Food Bank's Incredible Edible Field in Irvine. Students from Tarbut V' Torah School in Irvine will be participating.
Monday, January 18, 2010, 9:00AM-11:00AM
Monday, January 18, 2010, 1:00PM-3:00PM
Helping the Homeless: Armory Cold Weather Emergency Shelter Program
Agency: Mercy House Transitional Living Center, 807 Garfield Street, Santa Ana
Impact Areas: Homelessness/Hunger
Project Description: Mercy House will be operating the OC Cold Weather Shelter program this winter starting in December. The Armory program provides up to 350 beds per night for the homeless in Fullerton and Santa Ana. Volunteers will be assisting with set-up, clean up, passing out meals and donations.
Monday, January 18, 2010, 5:00PM-8:00PM – TWO LOCATIONS: SANTA ANA AND FULLERTON
Assembling Food Boxes for the Hungry
Agency: Community Action Partnership of Orange County, 12640 Knott Street, Garden Grove
Impact Areas: Homelessness/Hunger
Project Description: Volunteers will pack boxes of food to be distributed to the hungry in Orange County. Takes place at the Community Action Partnership's food warehouse in Garden Grove.
State Senator Lou Correa and sons will be participating at 9:00 am shift.
Monday, January 18, 2010, 9:00AM-11:00AM
Monday, January 18, 2010, 2:00PM-4:00PM
Monday, January 18, 2010, 11:30AM-1:30PM
Book Doctors: Book Repair/Cleaning for the Early Literacy Program 2101 E. 4th Street, Santa Ana
Agency: The Early Literacy Program
Impact Areas: Children & Youth: Literacy, Children & Youth
Project Description: Help the Early Literacy Program clean, repair and label donated children's books that will be redistributed to the Orange County Community. Books will be available for cleaning. Donations of gently used children's books will gladly be accepted.
Monday, January 18, 2010, 11:00AM-1:00PM
Monday, January 18, 2010, 1:30PM-3: 30PM
Heart for Hunger Food Drive
Agency: Orange County Rescue Mission
Impact Areas: Homelessness/Hunger, Adult Education and Literacy, Homelessness/Hunger
Project Description: OCRM will be organizing multiple Heart for Hunger food drives at grocery stores across Orange County. We need volunteers who can help us collect food donations to feed the homeless. Afterwards volunteers will deliver the food at 4pm to the Orange County Rescue Mission Warehouse. –
Monday, January 18, 2010, 9:00AM-12:00PM
Agency: Team Kids, Inc
Impact Areas: Children & Youth
Project Description: Team Kids would like to encourage any child who wants to serve on MLK Day or the preceding weekend to join kids across Orange County to host their own "Lemon Aid" stand. Proceeds from Lemon Aid Irvine will benefit OC Human Relations Youth Programs. Guidelines for Lemon Aid will be posted on the Team Kids website, www.teamkids.org and Lemon Aid stands can be registered there. Join us at 5pm at Irvine City Hall to collect funds, celebrate MLK service day, and highlight youth leaders!
Monday, January 18, 2010, 9:00AM-5:00PM
Note: Sunday, January 17, 2010, 1:00-3:00PM Kenny and Weston Beckmann from Volunteer Center Orange County's Family Service Team are selling lemonade, soft drinks, and baked goods at Los Lomas Park, Irvine, 10 Federation Way, Irvine, CA 92603.
Volunteer Training for Reading to Children 0-5 for Early Literacy Program
Agency: The Early Literacy Program
Impact Areas: Children & Youth: Literacy, Children & Youth
Project Description: In order to further The Early Literacy Program's (ELP) mission we are looking for volunteer readers. Our mission is to promote reading to children every day to build language and learning skills that last a lifetime. Readers are located in pediatric waiting rooms throughout Orange County. Readers read to children while they are waiting to be seen by the doctor. The most important role they play is advocating literacy to parents. Readers serve as models to parents on how to get a child interested in reading and demonstrate how reading can be fun. After reading they pass out materials to parents about reading levels, literacy, and development milestones. Readers give books to children for free to ensure that books get into the hands of the children who may not have access to their own reading materials.
Saturday, January 16, 2010, 10:00AM-12:00PM
###
Dan Pittman
714-282-9994
dan@pittmanpr.com
Barbara Powers
714-953-5757 x 218/ cell: 949-525-8775
bpowers@oneoc.org
About OneOC
OneOC, formerly Volunteer Center Orange County, is a nonprofit 501c3 organization committed to accelerating nonprofit success through volunteer, training, consulting and business services. Serving Orange County, California, OneOC provides support and solutions to more than 650 nonprofit organizations and community initiatives each year. Building on a 52-year history of mobilizing volunteer action, the organization announced its new name on September 15, 2010 to signal the expansion of its integrated service offerings to help nonprofits become as effective and efficient about their mission as they are passionate. OneOC is affiliated with Points of Lights Institute and HandsOn Network, enabling participation in national community service initiatives and connection to a larger movement of change. For more information, visit www.OneOC.org.