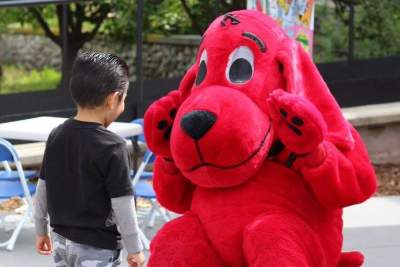 UC IRVINE'S JUMPSTART LITERACY FAIR TO BRING BOOKS TO LIFE TO ENCOURAGE
EARLY CHILDHOOD READING ON SATURDAY, MARCH 3 AT HERITAGE MUSEUM IN SANTA ANA
The program works with early childhood educators to reduce achievement gaps for children in underserved communities
Families from across Orange County are expected to attend UC Irvine's Jumpstart's free annual Spring Literacy event on Saturday, March 3, 10 a.m. to 2 p.m. at the Heritage Museum of Orange County at 3101 W. Harvard St., in Santa Ana. The exciting event supports the development of literacy through STEAM (Science, Technology, Engineering, Art, and Math) activities, readings from children's authors, activities such as making your own balloon rocket car, science experiments, and other STEAM related activities to encourage an interest in reading among preschool age children.
Jumpstart will give more than 1,000 free books to children who attend the event. Nurses from Santa Ana Unified School District will be present as well to provide free basic health screenings for children. Children's author Annie Banannie, who brings stories to life with her unique balloon storytelling, will also be at the event.
"By age four, the average child in a professional family hears about 35 million more words than children in low-income families," says John Harmon, UCI Jumpstart Site Manager. "UCI college students commit a year of volunteering with Jumpstart to help students in low-income schools develop early reading habits that can lead to long-term success.
Research has shown that children who are reading at a younger age tend to achieve more and experience more long-term success in their careers.
Jumpstart is a national early education organization that trains college students and community corps members to serve preschools in low-income neighborhoods with early childhood reading programs. Jumpstart's proven curriculum helps children develop the language and literacy skills necessary to be ready for kindergarten, setting them on a path to success and to reduce achievement gaps.
To learn more about Jumpstart, visit: https://www.linguistics.uci.edu/jumpstart.php.