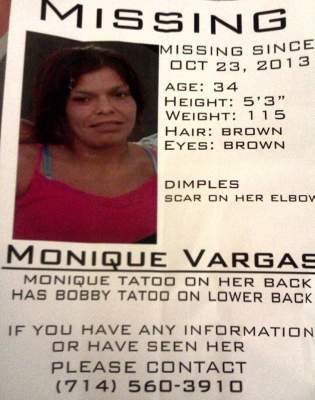 Monique Vargas, a resident of Santa Ana, has been missing since Oct. 24, according to her sister in law, Heather Hernandez, who posted this message on her Facebook page:
CAN YOU PLEASE HELP US FIND MY SISTER IN LAW MONIQUE VARGAS WHO WENT MISSING FROM SANTA ANA, CA LAST MONTH. A FEW OTHER GIRLS HAVE BEEN REPORTED MISSING AROUND THE SAME AREA BUT IT IS UNKNOWN IF THEY ARE ALL RELATED. THE POLICE ARE NOT REALLY ASSISTING US. PLEASE CONTACT US IF ANYTHING….THANK YOU-
Vargas is 34 years old and stands 5'3″. She weighs 115 pounds and has brown eyes and brown hair.  She has two tattoos on her back.
If you have any info on Vargas' whereabouts please call her family at 714-560-3910.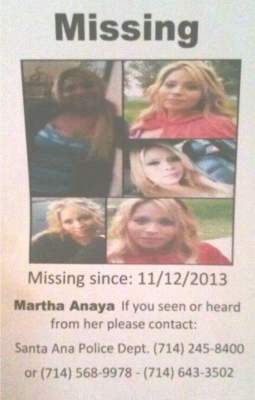 Another Latina was also reported missing, as of Nov. 12, 2013, on the Santa Ana Problems Facebook page.  Her name is Martha Anaya.  If you know her whereabouts you are encouraged to call the SAPD at 714-245-8400 or call 714-568-9978 or 714-543-3502.