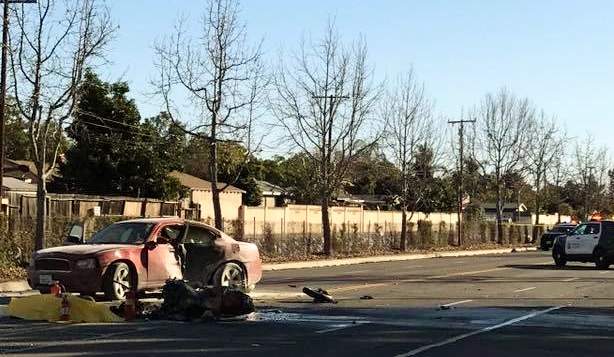 A crash between a motorcycle and car in Santa Ana left two dead on Wednesday afternoon, according to the O.C. Register.
The collision occurred at around 1:30 p.m. on Raitt Street, between McFadden and Edinger avenues.
A 35-year-old man was driving a motorcycle south on Raitt St. while a 40-year-old woman was making a U-turn in a Dodge Charger, going from north to south on the same street, when the crash took place, according to the SAPD.
Both vehicles caught fire after the accident. OCFA firefighters removed the woman from her car while onlookers pulled the motorcyclist away from his motorcycle and other residents put the fire out with their garden hoses.
The motorcyclist was pronounced dead at the scene of the accident. The woman died at a local trauma center due to her severe injuries and burns.
The SAPD is investigating the incident to determine which party was at fault.
The names of the victims were not released as their next of kin have to be notified.