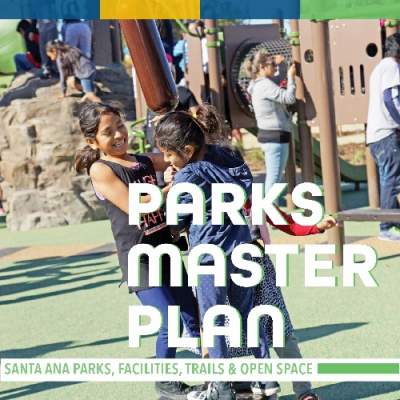 Santa Ana is creating our first Parks Master Plan to guide our investment in parks, facilities, trails, and open space. This is a long-range plan that will help prioritize park projects for the next 10 years.
 
We need your help to create the Parks Master Plan! Take our survey to share your ideas:
https://migsurvey.limequery.com/997262
 
The Santa Ana Parks Master Plan will:
Include opportunities for community and stakeholder involvement, including a public survey, to ensure the Master Plan reflects the needs of our residents
Involve an Advisory Board to inform Master Plan decisions
Provide an overarching investment strategy to address high-priority, ongoing, and unmet park system needs
Address park access and equity issues on a citywide scale
Recommend park and facility improvement projects and examine park maintenance issues
Establish directions to enhance parks, recreation facilities, trails, events, and programs to support community livability, park safety, trail connectivity, health and wellness, and our quality of life.
Realice Nuestra Encuesta del Plan Maestro de Parques
Spanish/español: https://bit.ly/2QKBzun
Tham gia Khảo sát Kế hoạch Tổng thể Công viên
Vietnamese/Tiếng Việt: https://bit.ly/3ebrgaM