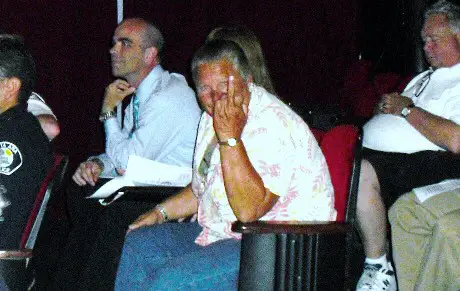 Pictured above: Debbie McEwen, a member of the Usual Suspects' coalition against the Chivas Soccer team
They're back…the folks I used to refer to as the "Usual Suspects" have come together again. This time they are ticked off about Santa Ana Mayor Miguel Pulido's ongoing attempts to bring the Chivas soccer team to Santa Ana.
Here is what the Voice of OC has reported about the resurgence of the "Usual Suspects:"
With rumors swirling about a potential pro soccer expansion into Santa Ana, some 50 residents gathered Wednesday night to complain about potential traffic, noise and other problems that soccer games could create.

Residents opposed to the move appear to be circulating a protest petition. They are particularly incensed over rumors that Mayor Miguel Pulido is holding private meetings aimed at bringing the team to the city while avoiding any input from residents.

Tom Lutz, a former council member, hosted the residents at his home. He said he found out about the negotiations and possible move only because of old contacts he has at City Hall.

Lutz said he understands that if the soccer team comes to the city, its first home would be Santa Ana Stadium. If true, that would displace football teams of local high schools like Mater Dei and Century, according to Lutz. The move also would mean Santa Ana College's football team could lose access to the stadium, he said.

At the end of the meeting, residents formed a committee to prevent the team from coming to the city. The committee includes Rush, Lutz, Don Cribb, Alfredo Amezcua, Thomas Gordon, Dave Brandt, and Debbie McEwen.
Note that failed Santa Ana Mayoral candidate Alfredo Amezcua is now a full-fledged member of the Usual Suspects. Latino voters will remember this when Amezcua comes begging for votes the next time he runs for Mayor.
I am not buying the silly argument about the school sports programs getting kicked out of Eddie West Stadium. Note that none of the new Usual Suspects are on the SAUSD School board – and not one of them has any children enrolled in our SAUSD schools. In fact most of them aren't even married, or are too old to have kids.
What these NIMBYs don't realize is the tremendous economic impact that the Chivas will have on our city. Nor do they care that the majority of our residents will be thrilled to welcome the Chivas to town.
I also don't buy the open space argument. The Willowick golf course is not of any use to the thousands of residents in Santa Ana who don't play golf, or cannot afford to do so. But the proposed Chivas complex will include new soccer fields that will be a huge boon to the young people of our city.
If the Usual Suspects want more open space they should join the dying lawn bowling league at Santiago Park, or go jog in our cemeteries.