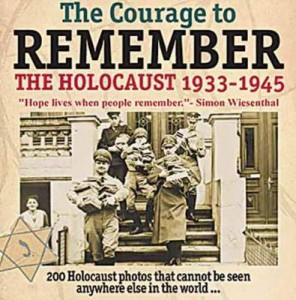 Santa Ana Police Department Community Alert: SAPD Welcomes the Simon Wiesenthal Center's World-Renowned "The Courage To Remember" Holocaust Exhibit
The Santa Ana Police Department Welcomes the Simon Wiesenthal Center's World-Renowned "The Courage To Remember" Holocaust Exhibit
As acts of intolerance continue to afflict society amid reports of anti-Semitic vandalism and bullying in California's neighborhoods, many are left wondering, how can we best combat these dangerous trends of intolerance and hatred?
The Simon Wiesenthal Center's "The Courage to Remember: The Holocaust 1933-1945" traveling exhibit strives to address this issue at its core, empowering people to educate themselves, learn from history and speak out against injustice as it comes to the Santa Ana Police Department's Community Room from January 31-February 15, 2013.
The exhibit will commence with an opening ceremony on January 31, 2013 at 11:00am at:
Santa Ana Police Department
 Headquarters
Community Room
60 Civic Center Plaza
Santa Ana, CA 92702
"Two decades after we first designed this exhibit, its lesson is still vital to peace at home and abroad," said Rabbi Abraham Cooper, Associate Dean of the Simon Wiesenthal Center. "Its timeless messages reflect the words of Simon Wiesenthal: 'Hope lives when people remember.'"
"The Courage to Remember: The Holocaust 1933-1945" traveling exhibit, produced by the Simon Wiesenthal Center's Museum of Tolerance, presented by the Foundation for California, and made possible by a grant from SNCF, has displayed in over 16 countries over the past 20 years, in addition to a successful tour throughout California and the Southeast. More than 350,000 people have seen the exhibit in California alone.
The exhibit, which is free and open to the public, features more than 200 exclusive photographs that cannot be seen anywhere else in the world, offering amazing insight into the Holocaust through four distinct themes: Nazi Germany, 1933-1938; Moving Toward the "Final Solution," 1939-1941; Annihilation in Nazi-occupied Europe, 1941-1945; and Liberation, Building New Lives.
"'The Courage To Remember' empowers young and old to learn from history, confront bigotry and fight for justice. This exhibit is not a luxury, it is a necessity in all communities," said Dr. Alfred Balitzer, Chairman of the Foundation For California.
For more information on "The Courage to Remember," its partners and schedule, and to see photos and videos from opening events, please visit: www.couragetoremember.com
For more information about the Santa Ana Police Department, please visit: www.ci.santa-ana.ca.us/pd/
About the Foundation for California:
Incorporated in 1986, the Foundation For California, a non-profit 501(c)3 educational corporation, was established to perform educational programs on issues of importance to the State of California and its local communities. Over the past 25 years, the Foundation has hosted conferences on public policy issues, sponsored educational lecture series and unveiled traveling exhibits, bringing the important issues of our society to the forefront of discussion throughout the Golden State and beyond.
For full details, view this message on the web.
Sent by Santa Ana Police Department
60 Civic Center Plaza, Santa Ana, CA 92701