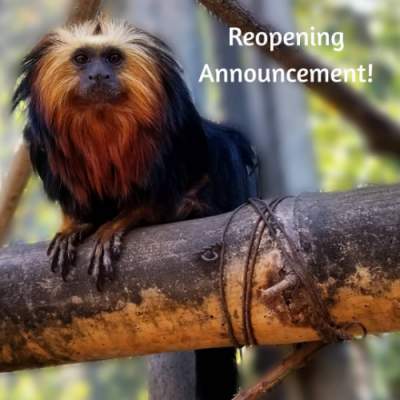 The Santa Ana Zoo is reopening on Sunday, January 31, 2021, from 10 am to 4 p.m.
The Santa Ana Zoo is subject to capacity and with the following safety modifications:
Masks are required for all persons age 2 and up, at all times, unless seated to eat or drink. For details, please click here for details.
The following attractions are OPEN: Exploration Maze, Colors of the Amazon Aviary, Conservation Education Theatre, Primates, Camels, Tierra de las Pampas, Anteaters, Crean Family Farm (cow, pony, new miniature donkeys!), Treetop Toys Giftshop.
The following are closed: Rides, Indoor spaces (Exploration Outpost & Barn), Playground, Beansprouts Café, Goat Yard & all direct animal-contact interactions.
Regular Hours: Wednesday — Sunday, 10am – 4pm (Closed Monday and Tuesday). FREE PARKING!
We welcome you back to our Urban Oasis. The Zoo remains a great OUTDOOR place to relax and escape and learn about the natural world.
Your support cares for the wildlife at the Zoo and endangered species worldwide. Thank you for all you do. We can't wait to see you soon!
Check our website for details on safety protocols before you arrive.
Admission:
Adults (13+) – $12
Children (3 – 12) – $9
Seniors (60+) – $9