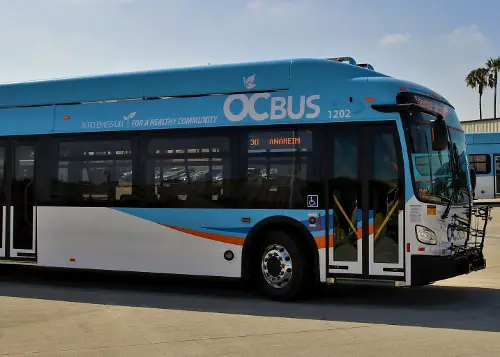 ORANGE – While Earth Day provides a chance once a year to focus on environmental protection, the Orange County Transportation Authority remains committed at all times to protecting what makes the county such a special place to live and to keeping people moving with a balanced and sustainable transportation system.
The latest effort toward a greener Orange County is the introduction of the first two plug-in battery electric buses into the county's fleet of OC Buses.
The two plug-in electric buses have begun operating on routes throughout various parts of the county, part of a pilot program of 10 plug-in electric buses that will be tested. The remaining eight buses are expected to be delivered later this year.
"This is another important step toward zero-emission transportation technology – one that will help bring even cleaner air quality to Orange County," said OCTA Chairman Mark A. Murphy, also the Mayor of Orange. "This is a great opportunity for us to test the latest technologies to ensure we continue providing the highest level of safe, reliable transit."
In 2020, OCTA also began operating 10 hydrogen fuel-cell electric buses. This new pilot will help determine which technology – or mix of technologies – will work best for Orange County moving forward.
The move is part of OCTA's plan to convert the OC Bus fleet to 100% zero-emission technology by 2040.
The $10.4 million contract with New Flyer of America, Inc. was approved by the OCTA Board of Directors in 2020 for the 10 plug-in electric buses.
The buses may not be immediately distinguishable from other OC Buses to passengers, since they carry the familiar blue, white and orange branding. They are charged through a plug-in port either in the front or back of the bus and the batteries are not visible on board.
Similar to the hydrogen fuel-cell electric buses, they carry a logo that reads: "Zero Emission for a Healthy Community."
OCTA is also working with Southern California Edison to install a new transformer and other infrastructure at OCTA's Garden Grove base to enable charging of all 10 buses, with an option to expand if and when more plug-in buses are purchased.
OCTA has already gradually transitioned its fleet over the years, from diesel-burning buses to clean-burning renewable compressed natural gas (CNG) buses with near-zero-emission engines. The state has set a requirement to transition to complete zero-emission transit within the next 20 years.
Two years ago, OCTA approved a zero-emission bus (ZEB) rollout plan, which was submitted to the California Air Resources Board.
The plan is not a commitment to a specific type of technology. OCTA is testing both hydrogen fuel-cell electric buses and plug-in battery electric buses to determine which ZEBs best meet OCTA's needs related to operations, maintenance and cost, among other factors.
The 10 plug-in electric buses are each the standard 40-foot length with capacity of up to 76 riders. The buses have an estimated range of 160 to 200 miles between charges, which will allow them to run for a full day and be charged nightly at the bus base.
When all 10 of the buses arrive, five are scheduled to run on a new Bravo! limited-stop route between Anaheim and South Coast Metro in Santa Ana. The other five will operate throughout Orange County.
The hydrogen fuel-cell buses, which also create no emissions, began operating in January 2020, when OCTA debuted its hydrogen fueling station in Santa Ana. In all, it represented a $22.9 million investment.
More than half of that funding – $12.5 million – came from California Climate Investments, a statewide initiative that puts billions of cap-and-trade dollars to work reducing greenhouse gas emissions, strengthening the economy and improving public health and the environment – particularly in disadvantaged communities.
The plug-in buses are paid for by a mix of state funding, including through the Solutions for Congested Corridors (SCCP) and State of Good Repair (SGR) programs, and through the Low Carbon Transit Operations Program (LCTOP) administered by Caltrans.
OCTA operates more than 500 buses in the regular OC Bus system across Orange County. For now, most of those buses run on CNG with near-zero-emission engines but OCTA is working toward the goal of producing zero emissions.
OCTA will begin phasing in additional zero-emission buses as part of future bus purchases. At the same time, staff will continue to analyze emerging technologies and work with partners to secure funding for purchase, operations and maintenance of the buses.
The effort aligns with California's Innovative Clean Transit Rule, a first-of-its kind regulation in the U.S. that sets a goal for public transit agencies to gradually transition to 100% zero-emission bus fleets by 2040. The Innovative Clean Transit Rule is part of the state's comprehensive program helping to achieve California's air quality and climate goals.
Photo attached: Two of 10 plug-in battery electric buses have began operating in Orange County as part of the Orange County Transportation Authority's pilot program testing the latest zero-emission bus technologies.
About OCTA: The Orange County Transportation Authority is the county transportation planning commission, responsible for funding and implementing transit and capital projects for a balanced and sustainable transportation system that reflects the diverse travel needs of the county's 34 cities and 3.2 million residents. With the mission of keeping Orange County moving, this includes freeways and express lanes, bus and rail transit, rideshare, commuter rail and active transportation.