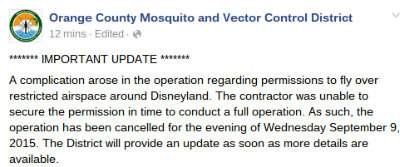 The Orange County Vector Control District has canceled the chemical spraying they were going to start tonight, according to their Facebook page.
Here is the message they posted tonight:
A complication arose in the operation regarding permissions to fly over restricted airspace around Disneyland. The contractor was unable to secure the permission in time to conduct a full operation. As such, the operation has been cancelled for the evening of Wednesday September 9, 2015. The District will provide an update as soon as more details are available.
What this means is that Disney will now call on their allies on the Anaheim City Council and on Assemblyman Tom Daly to stop the spraying permanently!
We also have time now to keep working to stop the spraying altogether! Click here to join the Facebook group that is dedicated to stopping the spraying.  Call Orange County Vector Control at (714) 971-2421 and request a " recorded complaint!"
Click here to find the contact info for your O.C. Supervisor.  Click here for a contact list of all the members of the O.C. Vector Control District's Board. These are mostly political hacks who are on the Board to collect a stipend.  Time to wake them up and let them know how upset you are about the spraying! Santa Ana residents can call Vector Control District Board Member Cecilia Aguinaga at (714) 478-2918.
Here are some more local elected and appointed officials you should contact: