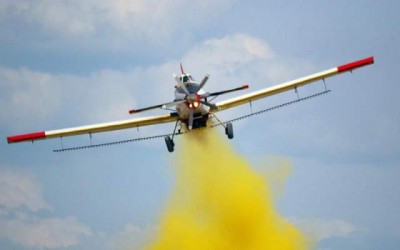 Peace 4 Animals, SCIL, And The Pet Place Call To Halt Aerial Spraying Of Poison In The OC
Pets, People, and Honeybees At Risk
By: Jennifer Andrews
Orange County, Calif. — Peace 4 Animals, Social Compassion in Legislation and The Pet Place are calling for the immediate halting of plans for aerial pesticide spraying over Orange County cities on September 9th and 10th. Orange County Vector Control aircraft will drop the pesticide called "Duet" over residential yards, homes, parks, schools, organic farms, etc., in an ill-advised attempt to manage mosquito populations. The State of California approved aerial spraying in spite of thousands of public emails, phone calls, letters, protests, and other communication calling for environmentally friendly and healthy alternatives that protect food and water supplies, the interests of organic farmers, fisheries, honeybees, pets, and people.
There is no reason to spray our homes with toxic chemicals since there have been no deaths due to the West Nile Virus this year and only a handful of people have been ill from the disease. The homeless are sadly mostly at risk as they sleep outside (and are at a higher-risk of toxicity from the spraying).
The groups are principally concerned that the chosen pesticide, DUET, is a pyrethrin/pyrethroid which has been linked to ADHD, Multiple Schlerosis, Parkinson's disease, and other neurological disorders.
Per the EPA, DUET is harmful to humans and pets if swallowed.
Duet also kills insects indiscriminately, which means the critically endangered population of honeybees will be decimated in Orange County. Birds that are primarily insectivores will also be negatively impacted by a sudden decrease in their food supplies. The whole ecosystem, will thus be affected adversely.
Wind will affect the drop area of the pesticide which will migrate to municipal drinking water sources, lakes, streams, and other bodies of water. Duet is NOT diluted by water (per manufacturer's product label).
It also looks like Disneyland is in the path of the proposed aerial toxic spraying and is a threat to guests and animals. Give them a call at 714-781-4000 and press 3. Be sure to ask for health or guest relations and share your concerns. You can also call 714-781-4667 and press 0.
Residents are urged to call the Orange County Board of Supervisors to immediately halt the spraying of DUET.
Chairman Todd Spitzer at todd.spitzer@ocgov.com, or 714-834-3330.
Board of Supervisor Andrew Do on the OC Vector Control Board at Andrew.do@ocgov.com, or 714-834-3333
Please ask politely that they cancel the aerial spraying and ask them to look for alternatives.
###