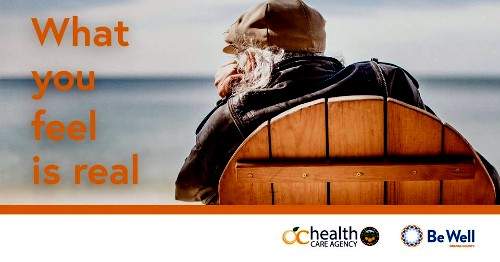 Messaging reminds Orange County community that reaching out for help is a sign of strength
(Santa Ana, CA) – The OC Health Care Agency (HCA) today announced a new advertising and community outreach campaign encouraging Orange County residents impacted by COVID-19 to care for their mental health by reaching out and seeking support. Specifically, the campaign directs residents to free County of Orange resources available to the community including those listed on www.ocgov.com/covid and the National Alliance on Mental Illness (NAMI) Warmline (877-910-9276) for immediate mental health support.
Supporting the HCA's mission to protect and promote the health and well-being of the community, the 'What You Feel Is Real' campaign is focused on helping Orange County community members cope with the stresses and disruptions they face because of COVID-19. By offering direct links and phone numbers for support, the campaign empowers residents with the information necessary to take the next step in managing their own mental health care.
"COVID-19 has emotional, financial and social impacts on the community," said Orange County Board of Supervisors Chairwoman Michelle Steel, Second District. "The goal of this campaign is to remind the community they are not alone, and that we are all in this together."
With a broad reaching message to the entire Orange County community, including those for whom English is not their primary language, the campaign will appear in newspaper, transit shelter, and digital and social advertising.
"The pandemic has not only threated our economy but also negatively affected many people's mental health and created new barriers for people already suffering from a mental illness," said Vice Chairman Andrew Do, First District Supervisor. "Increasing access and awareness to mental health services helps ensure we are getting vital care to those most in need, especially to our non-English speaking communities."
The campaign's electronic Community Outreach Toolkit will be shared with community partners countywide and includes social media graphics and other assets in multiple languages to help guide conversation about and promote the importance of seeking help. Electronic Community Outreach Toolkits will be available in English, Spanish, Vietnamese, Traditional and Simplified Chinese, Arabic and Farsi at www.ocgov.com/covid.
"Good mental and physical health is important for everyone," said Supervisor Donald Wagner, Third District. "If you face a silent struggle, you don't have to go it alone. There are supportive County resources that offer help and hope."
"It is important to take a look at how we're coping mentally and emotionally, acknowledge what we feel is real, and reach out for support," said Supervisor Doug Chaffee, Fourth District. "We're all facing new and added stresses during this challenging time, and I'm looking forward to sharing this important campaign with residents and community partners."
"The campaign does an excellent job of reminding the community that they are not alone," said Supervisor Lisa A. Bartlett, Fifth District. "By taking the first step and reaching out for help, we can all be stronger and healthier together during these unprecedented times."
"It is important the community takes care of each other as we are all in this together," said Dr. Jeff Nagel, Director of Behavioral Health Services at the HCA. "By sharing this message of understanding and strength with the community, we hope more residents will take advantage of the resources our behavioral health community, including partners like Be Well OC and NAMI, has to offer."
"Be Well OC is a community coming together in common purpose – to positively impact the mental health and well-being of Orange County residents – and that is exactly the spirit of this important campaign," said Marshall Moncrief, CEO, Mind OC. "We look forward to sharing this campaign with the Be Well coalition and with the community at large, encouraging and supporting our friends, neighbors, loved ones and colleagues to reach out for support during this challenging time."
For more information about mental health and substance use disorder resources, visit www.ocgov.com/covid.