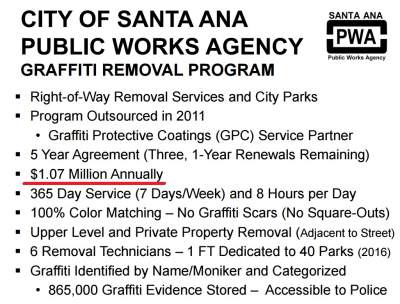 The city of Santa Ana spends over $1 Million a year removing graffiti in our city. YES ONE MILLION DOLLARS A YEAR to remove graffiti is what our taxpayers are paying.
You want money for youth programs in our city? Here's an idea, tell the gangbangers and taggers to stop vandalizing our city with their moronic graffiti!
They city has a Graffiti Task Force and offers a Graffiti Reward Program but almost no one is reporting the people who vandalize our city.
Last year, a 57 year old man was caught spraying graffiti on 2 streets and arrested. Grow the F*#K UP and leave our city alone!
Santa Ana gangbanger in his late 50s arrested on suspicion of tagging two walls