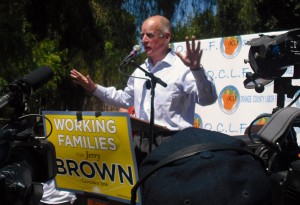 UPDATE: The Occupy protesters are going to show up at this event!  The dinner is sold out.  It should be quite a ruckus.
"California Governor Jerry Brown has vetoed SB 847, a bill by Senator Lou Correa (D-Santa Ana) that would have required medical cannabis cooperatives and collectives be located at least 600 feet from residential zones," according to 420 Times.
The bill was SB 847, by state Sen. Lou Correa (D-Santa Ana), who said he wanted to allow cities to chose their own regulations and to protect children living near such facilities from second-hand smoke, according to the L.A. Times.
In vetoing Correa's bill that would have unnecessarily restricted medical marijuana clinics, Brown wrote "Decisions of this kind are best made in cities and counties, not the state Capitol," according to columnist Steven Greenhut, in the North County Times. Continue reading→