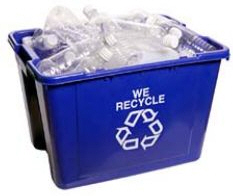 Public-Private Partnerships Work Well, Especially in a Difficult Economy
Christine Flowers, Executive Director of Keep California Beautiful
It happens every year. Once again, the Golden State faces an extraordinary budget deficit.
But as the state of California grapples with unprecedented economic challenges, we often forget to appreciate the things that are going right.
Day after day, year after year, Keep California Beautiful (KCB) continues to do its part by supporting a wide range of efforts to reduce, reuse, recycle and clean up our communities. We work with cities like Santa Ana, which is part of our Network of Proud Communities, to initiate litter prevention strategies, provide resources and help to mobilize volunteers and workshops. The types of services that we work to provide are often the first services cut. But we can't do it alone.
The heart of KCB's mission is to work together to empower and encourage individuals, state and local governments, communities, and corporate responsibility through strategic initiatives and volunteer action to preserve and protect California's beautiful natural resources for generations to come. Continue reading→