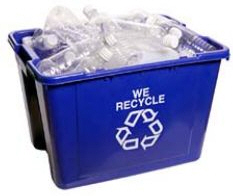 Public-Private Partnerships Work Well, Especially in a Difficult Economy
Christine Flowers, Executive Director of Keep California Beautiful
It happens every year. Once again, the Golden State faces an extraordinary budget deficit.
But as the state of California grapples with unprecedented economic challenges, we often forget to appreciate the things that are going right.
Day after day, year after year, Keep California Beautiful (KCB) continues to do its part by supporting a wide range of efforts to reduce, reuse, recycle and clean up our communities. We work with cities like Santa Ana, which is part of our Network of Proud Communities, to initiate litter prevention strategies, provide resources and help to mobilize volunteers and workshops. The types of services that we work to provide are often the first services cut. But we can't do it alone.
The heart of KCB's mission is to work together to empower and encourage individuals, state and local governments, communities, and corporate responsibility through strategic initiatives and volunteer action to preserve and protect California's beautiful natural resources for generations to come.
What does that mean? By encouraging individuals, state and local governments, California agencies and businesses, we have established diverse partnerships to accomplish great things across the Golden State. These alliances are the backbone of our organization, and with their help, KCB has played a key role in establishing and maintaining several waste reduction and recycling programs in California, scores of educational efforts and numerous community clean ups.
In fact, almost three years ago, KCB teamed up with California State Parks and the American Chemistry Council (ACC) to begin an active and ongoing partnership that placed and continues to maintain more than 700 seasonal and permanent recycling bins at more than 20 key beaches along California's coast. And the partnerships keep growing. KCB is currently working with Caltrans and ACC to place and maintain recycling bins at some of California's busiest rest stops. The first batch of recycling bins was installed at the H. Dana Bowers Rest Area/Vista Point near San Francisco. Programs like this are invaluable during times like these. Without these partnerships, our communities would suffer even more.
We at KCB have a saying: "The efforts of one result in the power of many." And it all starts at the local level in the communities by forming partnerships and working together toward a common goal: to Keep California Beautiful by reducing, reusing, recycling and by educating.
In this tough fiscal climate, where our state's social and environmental priorities have to compete with economic challenges, this partnership model works. We encourage other governmental, business and non-profit entities to try it because the more public-private partnerships we can forge, the better off the state will be.
###
Contact Usinfo@cleanca.org
1-800-CLEANCA or 916-368-9301
Address
8950 Cal Center Drive Suite 145
Sacramento, CA 95826
Staff
Christine Flowers-Ewing
Executive Director
cflowers@cleanca.org
Erica Reithel
Student Intern Volunteer Coordinator
ereithel@cleanca.org