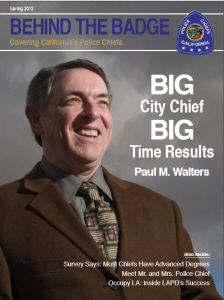 Supporters of Santa Ana City Manager Paul Walters are expected to turn out in large numbers at this Monday's City Council meeting, on Jan. 7, 2013, at 5:45 pm, at the Council Chambers, at 22 Civic Center Plaza, in Santa Ana.
Walters has come under fire as the current Santa Ana City Council majority has decided to come after him even though he saved our city from a budget fiasco last year and is even now our best hope to resolve the State of California's demand for the return of some $56 million dollars in redevelopment funds.
The Council Members in the majority, which include Santa Ana Mayor Pro Tem Sal Tinajero, Vince Sarmiento, David Benavides, Michele Martinez and Roman Reyna, have admitted that their attack on Walters is just more revenge against the Mayor, Miguel Pulido, for reasons known only to them.
I am told that Tinajero freaked out when 15 Walters supporters showed up at the closed-door, last minute Council meeting during Christmas week.  Imagine how the Council cabal will react when the Chambers are packed with Walters supporters?
Reportedly the Council majority wants to appoint Gerardo Mouet, the Santa Ana Parks and Recreation Agency Director, to replace Walters as City Manager.  But does Mouet's education and experience really make him a better option as City Manager than Walters?
Here is Mouet's bio, as provided by NALEO: Mr. Gerardo Mouet oversees a City Agency that handles parks, trails, recreation centers, senior centers, a stadium, libraries, and a zoo. He began to work for the City of Santa Ana in 1990 and has held a variety of positions including nine years in Personnel Services, where he worked on the City's Workforce Diversity Program and the Public Business Academy, two years in the City Manager's Office as Assistant to the City Manager in operations, two years as Assistant Director for Parks, Recreation, and Community Services and in 2004 as Executive Director for this agency. Mr. Mouet grew up in Tijuana, Mexico, and attended UC San Diego and CSU Long Beach for his graduate studies in Public Administration.
And here is Walter's city bio:
Chief Walters graduated from Santiago High School in Garden Grove, CA. He attended Orange Coast College before his four-year (1966-1970) tour of duty with the United States Air Force during the Vietnam War. He was nominated for Airman of the Year in 1967.
While raising a family and working full time as a police officer, he attended night school and earned a Bachelor of Arts Degree in Criminal Justice from California State University Fullerton (CSUF), a Masters of Public Administration from the University of Southern California (USC) and a Doctor of Jurisprudence from American College of Law. He is also a graduate of the California Command College Class II and the Senior Management Institute for Police (SMIP) Class IV, Police Executive Research Forum (PERF), Washington D.C.
Wow.  Who knew that Walters had a MPA from USC and a doctorate degree as well?  Mouet has an MPA too, but it is from CSULB. 
Beyond that, Walters led our police department very well for a long time – dropping crime levels to record lows.  He even oversaw the construction of our police headquarters and city jail and found ways to make the jail profitable by leasing cells to other public agencies.
Going after Walters has been a new low for the Council majority – and they are clearly doing it now as they won't have the guts to do this closer to the 2014 elections, when Tinajero, Martinez and Benavides will be up for re-election.
Stand up for Walters this Monday!  Let your voice be heard.  This Council of bullies needs to be put in their place!