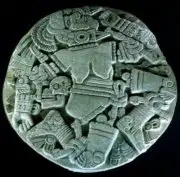 If you celebrated the New Year on January 1, you might be surprised to know that the indigenous people of Mexico celebrate the New Year on a different day, on Feb. 2 to be exact.  El Centro Cultural de Mexico is hosting a Mexica New Year Event on February 2, 2013.  There will be a Spanish language presentation from 2:00 pm to 4:30 pm then 5:00 pm to 8:30 pm they will have a presentation in English.  The event will be located at 313 N. Birch Street, in Santa Ana.
Olin Tezcatlipoca will speak on the theme is "Revival of Our Heritage By How We Live Our Lives".
Citlalli Citlalmina Anahuac will speak on the women leaders of Cemanahuac.
Amoxeh will explain why the New Year is celebrated Feb. 2.
Scott Keltic Knot will present on "Global Resistance to Colonialism: Definitions, History and Future."
Click here to RSVP on Facebook.
Nelyollotl Toltecatl, presentará:
Historia Desconocida
Un recorrido sobre nuestra gran cultura nican tlaca. Aquí se conocerá sobre nuestro gran pasado, desde nuestros comienzos en el área de lo que hoy es Veracruz y Tabasco, México con la madre civilización, la olmeca (2300 a.c.) en el área de Anáhuac ("Norteamérica"), hasta la civilización mexica, de donde se viene el nombre de mexicano, Mexican, y Chicano. Conoceremos de su influencía hacia otras áreas de lo que hoy se conoce como México y "Centroamérica" y también, en lo que hoy falsamente conocemos como "los Estados Unidos."
Observaremos en cómo todavía preservamos ciertas costumbres milenarias, lengua, y tradiciones. Hablaremos del cómo a través de la invasión española, hoy pensamos que ya no somos parte de este gran legado nican tlaca. Entenderemos, del por qué, no deberíamos de aceptar los términos de latino, hispano, y otros más.
Amoxeh explicará por qué se celebra el Año Nuevo el 2 de feb.
Arturo presentará un video sobre la cultura pur'épecha.
Oscar Nudo Celta presentará "La resistencia global al colonialismo: definiciones, historia y futuro."