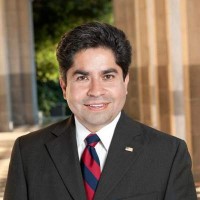 For Immediate Release: January 8, 2015
For More Information Contact: Maricela Taylor, (714) 794-8431
JOSE SOLORIO APPOINTED TO CALIFORNIA STUDENT AID COMMISSION
Appointed by State Senate Rules Committee, the Rancho Santiago Community College District Trustee Will Focus On Making Higher Education Affordable
Santa Ana – The State Senate Rules Committee voted this week to appoint Community College Trustee Jose Solorio to the California Student Aid Commission. Since its creation by the State Legislature in 1955, the Commission has served as the principal state agency responsible for administering financial aid programs (e.g., Cal Grants) for students attending public and private universities, colleges, and vocational schools in California.
"I'm honored that Senate President Pro Tem Kevin De Leon and the Senate Rules Committee have selected me as their representative to the California Student Aid Commission. College affordability, tuition and financial aid are significant policy issues facing California and I am proud that I will be able to play a role in making higher education more economical for California families," states Community College Trustee Solorio.
The Commission consists of 15 appointed members. Eleven of the commissioners are appointed by the Governor and represent students, segments of the State's higher education community, and the general public. The Chair of the Senate Rules Committee and the Speaker of the Assembly each appoint two members.
Community College Trustee Jose Solorio serves on the Board of Trustees for the Rancho Santiago Community College District, which oversees Santa Ana College and Santiago Canyon College, and represents 700,000 residents in the cities of Anaheim, Garden Grove, Irvine, Orange, Santa Ana, Tustin, and Villa Park. Prior to that, he represented the cities of Anaheim, Garden Grove and Santa Ana in the State Assembly for six years. He holds a bachelor's degree from UC Irvine and a master's degree in public policy from Harvard University.
To learn more about Trustee Solorio, please visit him online at Facebook.com/Solorio4California, Twitter.com/JoseSolorio and JoseSolorio.com.
###