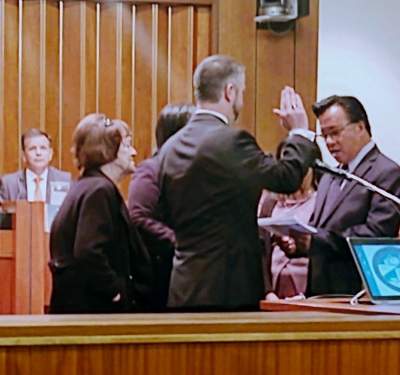 SANTA ANA, CA – Councilmember Phil Bacerra was sworn in tonight, Nov. 19, as the new Ward 4 representative of the Santa Ana City Council.
He won the vacant seat in a special election on Nov. 5 and will serve out the remainder of a four-year term that ends in December 2022.

"I'm honored to have been elected by the people of Santa Ana and to join my fellow councilmembers in leading our community into a bright future," Councilmember Bacerra said. "I look forward to working together to solve our homelessness crisis, improve public safety and bring investment to our city. I promise all Santa Ana residents that I will deliberate on the Council dais, as I did as a planning commissioner, with the same independent thoroughness that serves the best interests of our fellow residents."
Mayor Miguel Pulido welcomed Councilmember Bacerra. "I am delighted to have Councilmember Bacerra join us and to have a full council in place working for the people of Santa Ana," Mayor Pulido said. "The councilmember's expertise in city planning will be a valuable asset in our decision-making."
Councilmember Bacerra, the son of a union grocery store manager and a waitress, was born and raised in Orange County, where he attended local schools and worked as a busboy at his uncle's restaurant in Santa Ana, Pop's Café.
After graduating from the University of Southern California with a bachelor's degree in urban planning, he went on to work for various city governments, including the City of Los Angeles. Councilmember Bacerra has been using that city government experience to help small businesses succeed and to increase access to high-quality housing.
The councilmember previously served for over five years on the Santa Ana Planning Commission. He has also served on the City's General Plan Advisory Group and the Historic Resources Commission. He served two terms as an appointed member of the Orange County Transportation Authority's Citizens Advisory Committee.
Councilmember Bacerra enjoys volunteering his time by contributing to the charitable efforts of the Santa Ana Elks, serving as a board member for Preserve Orange County, mentoring students from his alma mater, and assisting his high school alumni association in awarding scholarships to deserving students. He also enjoys watching USC football and hockey.
The councilmember and his wife, Wendy, have lived in Santa Ana for many years. They are parishioners at the historic Church of the Messiah in Downtown Santa Ana and live in South Santa Ana.
About City of Santa Ana
Santa Ana is downtown for the world famous Orange County, California. As the County Seat, home to a vibrant evening scene and one of the most diverse communities in California, Santa Ana is gaining national attention for its efforts to innovate and address a changing County. Over 1,200 City employees work hard every day to deliver efficient public services in partnership with our community to ensure public safety, a prosperous economic environment, opportunities for our youth, and a high quality of life for residents. Learn more at http://www.santa-ana.org.