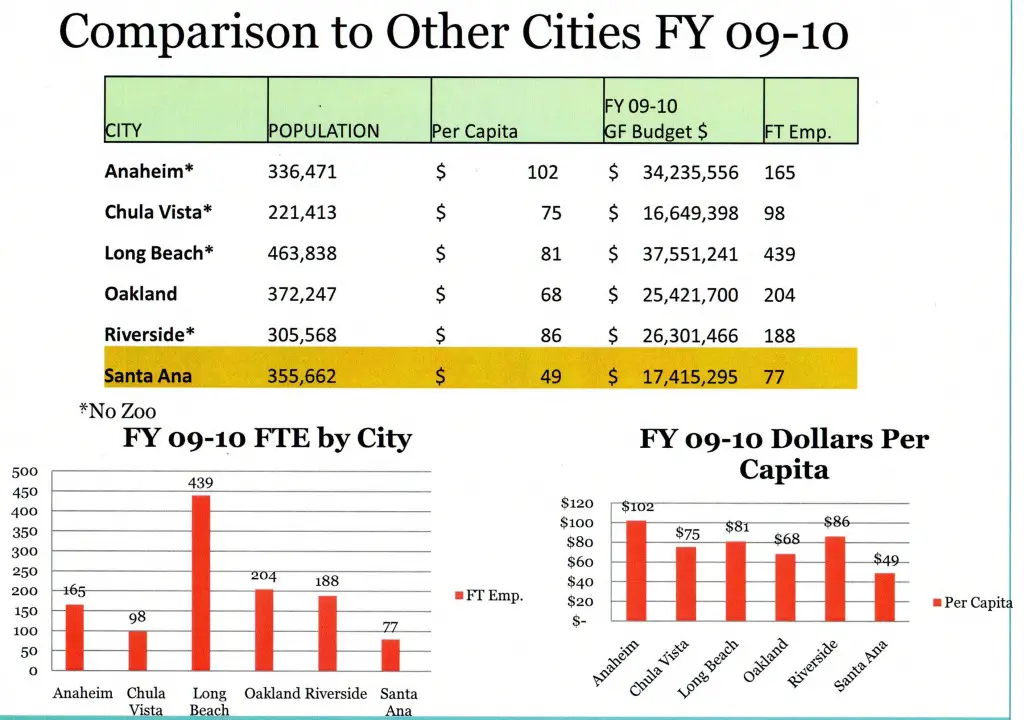 Make no mistake about it – the City of Santa Ana is flat broke. "City departments from police to parks have once again begun searching their budgets for places to cut as the city stares down a shortfall of as much as $25 million," according to the O.C. Register.
With that in mind, I met today with Gerardo Mouet, the Director of Santa Ana's Parks, Recreation and Community Servces Agency, which includes the Santa Ana Zoo and the Santa Ana Public Library. We met to discuss my proposal for a dog park at Santiago Park, but ended up talking about a wide range of issues.
First the good news. Mouet is a very creative administrator, with many years of experience at City Hall. He even served as a deputy to City Manager Dave Ream. So Mouet is not without resources and he has done a lot to improve service to our residents even as he as slashed his agency's budget to the bone.
Now the bad news. Mouet's department is down to 77 full time employees. In the year 2004, his department had 142 full time employees! What this means is that his department spends $49 per capita, while cities of comparable size, such as Oakland, spend anywhere from $68 to $102 per capita. And Oakland still employs 204 full time workers in their parks and recreation department.
So what has Mouet done to improve service?  Well, for starters, he figured out that many adult males from outside our city were coming here to Santa Ana to play soccer on our overcrowded fields.  And to make matters worse, the city was allowing the soccer leagues to contol the fields.  The result?  These guys were making money subletting the fields!
Mouet put an end to that.  Today most of the fields are used by youth soccer leagues, and Mouet's agency directly manages the fields.
Mouet is also working on setting up an extension of the Santa Ana Public Library's Teen Space at the Jerome Center.  As a former Public Library Board Commissioner, I applaud Mouet for finding ways to extend public library services to our neediest areas!
As my readers know, I have also been quite peeved about the Lawn Bowling center at Santiago Park.  Mouet also has figured out that most of the lawn bowlers don't live here and he is now charging them to use the greens. 
So what happened to my dog park proposal?  It is moving forward, but carefully as we need to meet with community stakeholders and make sure we do this to everyone's satisfaction.  I don't want to go into detail now, as that would be premature, but suffice to say that Mouet suggested an alternative site at Santiago Park that will allow the lawn bowling to continue.
My advice to the lawn bowlers?  Better start marketing your sport to Santa Ana residents – in Spanish and English!  This may be their last chance to remain at all relevant in our city.
The Santa Ana Parks and Recreation Department is also offering a pretty amazing array of what he calls "leisure classes."  Click here to learn more about those.  The courses include art, dance, music, yoga, martial arts.  The classes are not free but the prices are low.

During my meeting with Mouet I also recommended that we change the date of the monthly free day at the Santa Ana Zoo to a Saturday or a Sunday.  Currently the free day falls on a Tuesday, which makes it tough for working families to enjoy a day at the Zoo.  By changing the free day to a weekend, we would expose more people to the Zoo and they would in turn spend money there and maybe even buy a membership. I call that a win-win solution!
Mouet has, by the way, been able to get enough grant money, from the state and UCI, to debut a new exhibit called "Tierra de las Pampas."  It will feature animals from South America, including two rare Giant Anteaters!  The Zoo plans to breed these gentle giants.
I also recommended that the City of Santa Ana use the free Google translator that I use to offer all of their web information in Spanish and Vietnamese.  The City of Albuquerque, New Mexico, already does this.  They use Yahoo's Babel Fish, which, like Google's translator, is free.
Mouet's approach is exactly what we need in Santa Ana.  These are indeed tough times.  Our city administrators have to rise to the challenge.  And now, more than ever, residents need to voice their concerns and get involved in civic affairs.  We can get through this dark period, but not by doing business as usual.