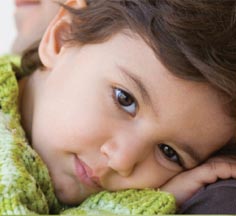 A BRAND-NEW "BLIND SIDE" STORY TAKES PLACE IN THE O.C., AS OLIVE CREST'S SAFE FAMILIES PROGRAM BRINGS TOGETHER
A FAMILY IN NEED WITH A FAMILY WHO CARES
The Sheffield Family of East Orange, Members of Rick Warren's Saddleback Church, Take in 17-Year-Old "Kyle" During a Time of Temporary Crisis
SANTA ANA – It sounds like a re-creation of "The Blind Side," the Oscar-nominated Sandra Bullock film about a wealthy Memphis family that takes in a homeless teen (and outstanding athlete) from the wrong side of town. But in this case, the story is unfolding right in Orange County, California—and the teen's mom is not a drug addict, as in the film, but a devoted single parent who wants the best for her son, even if for the moment she can't provide it herself.
In the West Coast "Blind Side" story, Chrissy and Peter Sheffield of East Orange fill the roles played by Sandra Bullock and Tim McGraw in the film. Before this all began, the Sheffields already had a full life and a full house. They own and run Platinum Container, Inc. in La Habra. They're busy raising three kids: 18-year-old Tony, who attends Santiago Community College; 11-year-old Mia; and six-year-old Nate. They attend Saddleback Church, and take to heart pastor Rick Warren's mandate: "You want to see it, then be it."
So when the Sheffields learned about the Safe Families program coordinated by Olive Crest of Santa Ana, they knew they wanted to "see it" at Saddleback Church—and that they would "be it" by becoming a Safe Family and opening their home to a family in crisis.
Through the Safe Families program, a parent or a family experiencing a temporary crisis that renders them unable to care for their children—such as the sudden loss of a home; substance abuse treatment; a single parent facing incarceration—can arrange for their child to be paired up with a volunteer family who agrees to take the children in and give them a safe, loving home. Safe Families is a positive alternative to the state welfare system giving parents freedom to work through their problems without the worry of losing child custody; in fact, 94% of families in crisis are reunited through the support of a Safe Family. Safe Families are motivated by their compassion for their neighbor in need as there is no financial compensation.
Chrissy and Peter Sheffield met "Kyle," a senior at a local high school, and a star on the school's track team. Kyle's mom, had been laid off from her job, and could no longer afford the rent on their apartment—so she and Kyle were living out of their car. A school district employee who has kept in close contact with Kyle's mom learned of their situation and connected her with Olive Crest Safe Families For Children.
The Sheffields were delighted to welcome Kyle to their home. A polite kid and a good student, Kyle has adjusted well to life with his temporary family and his new "siblings." And his Mom is happy that Kyle is being taken care of by the Sheffields while she gets back on her feet. She is currently staying at a woman's shelter, has found a new job, and is saving up money for a new apartment—where she and Kyle can live together again.
* * *
About Olive Crest
Since 1973, Olive Crest has transformed the lives of over 50,000 abused, neglected, and at-risk children and their families. We work tirelessly to meet the individual needs of kids in crisis by providing safe homes, counseling, and education for both youth and parents. Our many innovative programs reflect our conviction that strengthening the family is one of the most powerful ways to help heal children. With unwavering compassion, the Olive Crest family maintains a lifelong commitment to the youth and families we serve even after they have graduated from our programs.
Olive Crest serves nearly 1,000 children and families each day throughout California, Nevada, and the Pacific Northwest. For information call 1-800-550-CHILD (2445) or visit www.olivecrest.org.
Media Contact:
Marisa Aguilar
909.851.0613
www.currentpr.com