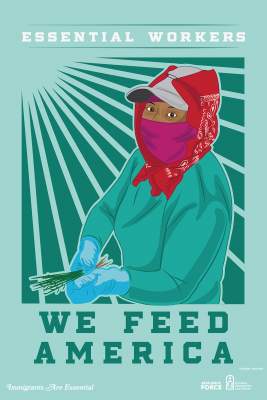 SANTA ANA, Calif. – Santa Ana Mayor Vicente Sarmiento today announced his support for the Citizenship for Essential Workers Act being introduced by California Sen. Alex Padilla and other members of Congress.
The Citizenship for Essential Workers Act would provide undocumented essential workers with a fast, accessible, and secure path to citizenship, beginning with immediate adjustment of status to legal permanent resident. This legislation is a critical part of a just and inclusive COVID-19 recovery.
"Throughout this difficult and deadly pandemic, undocumented workers have risked their lives to help keep our economy moving, to put groceries on the shelves, to cook our meals, to manufacture and distribute goods, and so much more," Mayor Sarmiento said. "I applaud Sen. Padilla for recognizing the contributions of these essential workers by providing them a well-earned path to citizenship. The Citizenship for Essential Workers Act will not only strengthen our country, but also is simply the right thing to do."
There are 5.2 million undocumented immigrants working in jobs that have been designated as essential during the COVID-19 pandemic. This accounts for almost 3 out of 4 undocumented workers in the United States.
About Santa Ana
Santa Ana is downtown for the world famous Orange County, California. It is the County Seat, the second-most populous city in Orange County, and is home to a vibrant evening scene and arts community. About three-quarters of the City's residents are Latino. Over 1,200 City employees work hard every day to deliver efficient public services in partnership with our community to ensure public safety, a prosperous economic environment, opportunities for our youth, and a high quality of life for residents. Learn more at www.santa-ana.org.