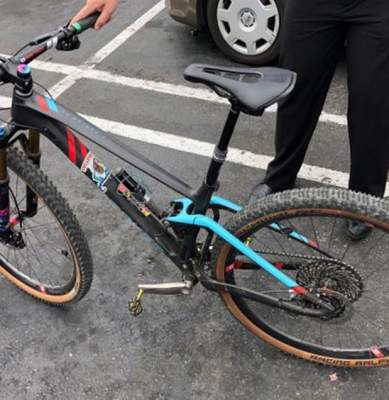 On 08/03/20, Fountain Valley Police Department Officers responded to the 16000 Block of Watershed Drive, where a bicycle was stolen from a garage. The victim explained that the bicycle was a custom built mountain bike worth $17,000.
On 08/05/20, the mountain bike was located for sale on Offer Up for $1,000 by a male suspect, later identified as Angel Santa-Maria, a 26-year-old resident of Santa Ana.
FVPD Detectives arranged to purchase the bike at a predesignated location and Santa-Maria arrived a short time later while riding the bicycle. Detectives recovered the mountain bike and arrested and booked Santa-Maria into the Orange County Jail for burglary, grand theft, and possession of stolen property. (DR# 20-24843).
With more people cycling during the pandemic for exercise, the Fountain Valley Police Department reminds residents to keep a record of their bicycle make, model, serial number, and photograph of their bicycle. This type of information is critical when investigating a reported bicycle theft.