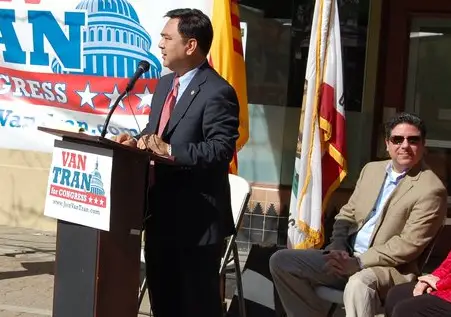 When I ran against Santa Ana Councilman Carlos Bustamante, in 2008, I did so primarily because the Democrats failed to recruit a challenger against the only Republican on the Santa Ana City Council.  I was incredulous when the Liberal OC bloggers (Chris Prevatt and Dan Chmielewski) and the Orange County Employees Association (OCEA) joined forces with Matt Cunningham, of the Republican-promoting Red County blog, as well as GOP consultant Mike Schroeder and various friends of Assemblyman Van Tran to mail out hit pieces against my campaign.
I got over ten thousand votes, but Bustamante won that race.
Well, today I received notice that Bustamante is going to be hosting a fundraiser for Tran, who is running against Lib OC darling Loretta Sanchez.  How do you like that?  I hope the OCEA and the Liberal OC are happy.  I would NEVER support Tran for ANY office, but Bustamante is all in for him.
Here are the event details in case you want to go see this mess for yourself:
THE VAN TRAN FOR CONGRESS HOST COMMITTEE
CORDIALLY INVITES YOU TO A RECEPTION
IN SUPPORT OF
ASSEMBLYMAN VAN TRAN, CANDIDATE FOR CONGRESS, 47TH DISTRICT
With Special Guests
CONGRESSMAN KEVIN MCCARTHY, 22ND DISTRICT, CHIEF DEPUTY WHIP
& CHAIRMAN SCOTT BAUGH, REPUBLICAN PARTY OF ORANGE COUNTY
Friday, September 17, 2010, 5:30 p.m. TO 7:30 p.m.
At the Home of Adriana & Hon. Carlos Bustamante
1110 West Sharon Road, Santa Ana
R.S.V.P. to Phyllis at: Phone (714) 368-0260 § Facsimile (714) 368-0261