An OC District Attorney Candidates Forum will be hosted at Phillips Hall Theatre at Santa Ana College on Wednesday, March 21 from 6 p.m. – 8 p.m. Phillips Hall Theatre is located at 1530 W 17th St., in Santa Ana.
OCDA Candidates who will be at this forum include O.C. Supervisor Todd Spitzer, OCDA Tony Rackauckas, Lenore Albert-Sheridan and Brett Murdock.

All Attendees must register on Eventbrite.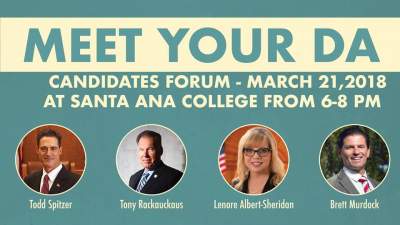 The Orange County District Attorney has tremendous power to make decisions that impact the lives of millions of people, their families, and entire communities. In fact, the OCDA serves over 3 million residents with a budget of $138.8 million (FY 2016-2017).
During this forum, the Candidates for OCDA will engage with a panel of local leaders to discuss topics including but not limited to:
Youth
Police
Mass incarceration
Immigration
Prosecutorial misconduct
Learn about the role of District Attorney's in the issues we care about most and what you can do in your community. This Candidates' Forum is part of a series of events hosted by the PEOPLE's Coalition (People for the Ethical Operation of Prosecutors and Law Enforcement). The PEOPLE's Coalition works in conjunction with the statewide "Hey! Meet Your DA" campaign. More information can be found here.