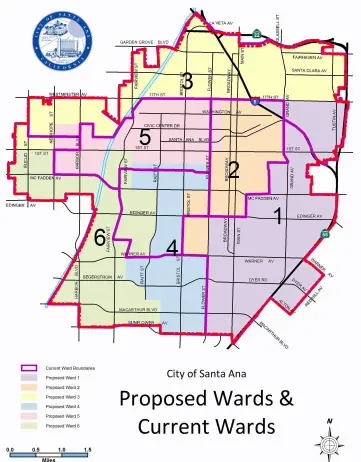 Tuesday December 20, 2011, 6:22 PM
City of Santa Ana, Downtown Orange County
Community: City Council Approves 1st Reading of Ordinance on Re-Boundary of Council Wards
SANTA ANA, CA (December 20, 2011) – The City Council at its regularly scheduled City Council Meeting, held December 19, 2011, approved, by unanimous consent, the first reading of an ordinance that will change the City Council Ward Boundaries. The second reading of the ordinance is set for Tuesday, January 17th at 6 p.m. in the Council Chamber. The City Council directed the Clerk of the Council to educate members of the community about the process taken to develop the proposed boundaries. If interested, please contact the Clerk of the Council Office at 714-647-6520 thru Friday, January 13, 2012, to schedule a session during regular business hours. Attached for review is a map with the proposed and current boundary lines.
Please note that City Hall will be closed during the week of December 26th and will resume regular business hours on Tuesday, January 3, 2012.
For full details, view this message on the web.
Sent by City of Santa Ana, 20 Civic Center Plaza, 8th Floor/ P.O. Box 1988, Santa Ana, CA 92702