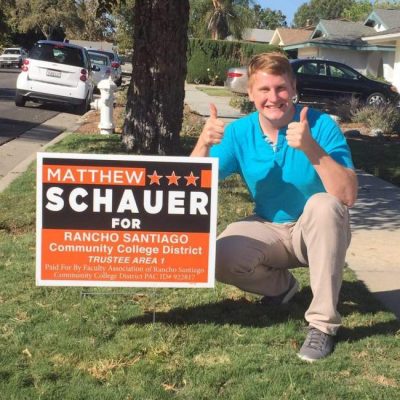 FOR IMMEDIATE RELEASE: October 3, 2016
Contact: Matt Schauer, (714) 486-9037
Matthew Schauer Endorsed By Coalition of Organizations In Race For Rancho Santiago Community College District
Santa Ana, CA –Candidate for Rancho Santiago Community College District, Trustee Area 1, Matthew Schauer, has earned the endorsement from both the Faculty Association of the Rancho Santiago Community College District and the California School Employees Association 579. Schauer is the only candidate running in Trustee Area 1 with support from multiple education associations.
"To be endorsed by the people who are the backbone of the district is more important to me than seeking the endorsements of career politicians," Schauer said. "I look forward to being a representative of the community when on the board and helping to bring needed reform to the district."
The experience and qualifications of Schauer include:
Serving as a Santa Ana Housing Commissioner
Volunteering as a Rotary Member
Experience working with non-profit organizations locally and internationally
Serving as contributor and advisor to a key Principal at the US State Department
Fluency in multiple languages
The race for Trustee Area 1 is to replace Jose Solorio who resigned from the board to run for Santa Ana City Council. Matthew Schauer is the only candidate to earn the support of full-time and part-time professors.