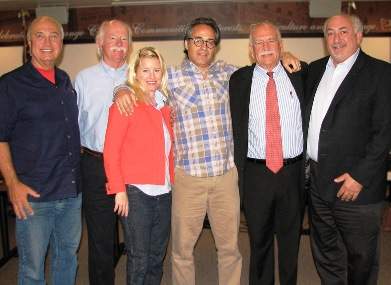 MEDIA/PRESS CONTACT: Robin Wachner, Communications Department, OC Fair & Event Center, (714) 708-1543
OC Fair & Event Center Selects California Artists
Ricardo Mendoza & Josh Sarantitis to Design Agricultural Memorial
Costa Mesa,  Calif. (October 24, 2013) – The OC Fair & Event Center (OCFEC) has  selected California-based artistic duo Ricardo Mendoza and Josh Sarantitis to  design and build a new Agricultural Workers Memorial on its 150-acre property  in Costa Mesa, CA. The memorial, titled "Table of Dignity," will honor the  contributions of agricultural workers to the growth and prosperity of Orange  County.
Mendoza is the first-generation son of  a Mexican immigrant mother and grew up in Costa Mesa. His grandfather, who was  on the Mexican Consul, worked directly with the United Farm Workers (UFW) Union  President Cesar Chavez to protect the rights of migrant farm workers and their  families. As the lead artist on the OCFEC project, Mendoza has had public art  installations at the Monterey Park Library, Seily Rodriguez Memorial Park in  Hollywood, Sandra Cisneros Learning Academy in Los Angeles and across the world  in Spain, Saudi Arabia, Germany and France.
Sarantitis comes from a family of  immigrant laborers who worked in the tobacco fields of Ybor  City, Florida and on the docks of Oakland.  Sarantitis also worked with Chavez and UFW in the early 1990s to educate  students and organize farm labor campaigns. As the lead fabricator on the OCFEC  project, Sarantitis collaborated with Mendoza on the MTA Firestone Blue Line  Station piece "The Will to Progress" in Los Angeles in 2004 and collaborated  with sculptor Alex Garza on the Cesar Chavez Overpass in Tucson, Arizona.
OCFEC collaborated with Arts Orange  County, the county's non-profit arts council, to commission a California-based  artist or artistic team for the new memorial. Mendoza/Sarantitis' winning  design was selected from a pool of 49 applications, which was first narrowed to  five by an independent panel of judges that included California State  University of Fullerton's Gallery Directory of the Begovich Gallery, Director  of the Exhibition Design/Museum Studies Program and Associate Art Professor  Mike McGee; the City of Laguna Beach's Cultural Arts Manager Sian Poeschl; and  Tomas Benitez, Grant Manager of the Plaza de la Raza Cultural Center for the Arts  and Education in Los Angeles. After in-person presentations by each finalist, a  selection committee of OCFEC staff and Board members Nick Berardino and  Ashleigh Aitken selected Mendoza/Sarantitis' proposal, which was then approved  by the OCFEC Board at their June meeting.
The Agricultural Workers Memorial,  approved by OCFEC's Board of Directors last year, will be located on-site  adjacent to the Millennium Barn in the Centennial Farm, a year-round working  farm designed to educate about the rich agricultural history of Orange County  and its importance to daily life. Mendoza/Sarantitis' design includes a central  sculptural table surrounded by a field of raked sand and a perimeter timber  bench with large-scale entry portals made of rammed earth. An all-inclusive  budget of up to $90,000 has been allocated for this project, which is expected  to be completed by July 2014, in time for the 2014 OC Fair.
The OC Fair & Event Center is  located off the 405 and 55 freeways at 88 Fair Drive in Costa Mesa. For more  information, please visit ocfair.com,  become a fan on Facebook.com/OCFair, follow us at twitter.com/ocfair or call (714) 708-1500.
About the OC Fair  & Event Center   As the 32nd District  Agricultural Association of the State of California, the OC Fair & Event  Center in Costa Mesa, CA, is home to the annual OC Fair and year-round  Centennial Farm and with 150 acres of diverse, flexible event space, it's also  host of a variety of events throughout the year for arts, crafts, cars,  cultural celebrations, pets, collectibles and more. Every summer, the OC Fair  offers 23 days of food, exhibits, rides, shopping, action sports, tribute bands  and headline entertainment in the Pacific Amphitheatre. Throughout the year,  the Centennial Farm offers free opportunities for locals to experience  first-hand Orange County's rich agricultural history. Visit ocfair.com for more  details.
About Arts Orange County  (ArtsOC)   Arts Orange County is the  leader in building appreciation of, participation in, and support for arts and  arts education in Orange County. Founded in 1995 by Bonnie Brittain Hall and  based in Santa Ana, ArtsOC is an independent nonprofit arts services  organization that is the officially designated local arts agency and  state-local partner of the County of Orange.   In addition to offering free programs like the annual Imagination  Celebration, a month-long festival of free and low-cost arts for families and  children, and free services like SparkOC.com, Orange County's comprehensive  online arts and culture calendar, Arts Orange County also provides fee-based  contracted services and consulting to local organizations. Visit artsoc.org for  more details.