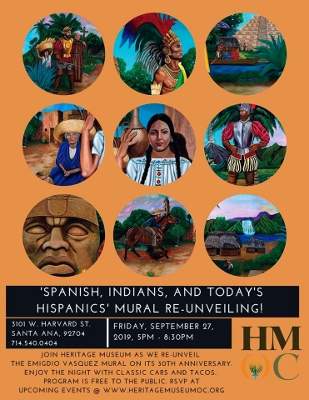 An auto body shop worker discovered a rolled-up canvas in the rafters of the shop he worked at five years ago. It turned out to be a lost painting by famed Orange County artist Emigdio Vasquez, who was known by many as "El Godfather of Chicano Art," according to the O.C. Register.
The artwork, which measures 10 feet by 48 feet, was repaired by Vasquez's daughter, Orange artist Rosemary Vasquez Tuthill. Tonight the canvas will be unveiled at the Heritage Museum of Orange County, on their 30th anniversary, from 5:00 pm to 8:30 pm
The event tonight will also feature classic cars and tacos. This program is free and open to the public. Please RSVP through this link so the Museum can be sure to have enough tacos- one free taco for the first 250 guests! Special thanks to the Orange County Car Club and La Carreta Mexican Food.
So how did the missing canvas end up at an auto body shop? Al Martinez, who owned a body shop in Santa Ana, asked Vasquez to paint a mural for an event he was promoting that year — the Salsa 89 Lowrider Car Show and Family Fiesta. But after the cultural event, that lush canvas apparently was put away and forgotten for over two decades, according to the O.C. Register.
The restored canvas depicts a timeline of Mexican history, from indigenous people to Spanish conquistadores, to women doing daily chores in a village.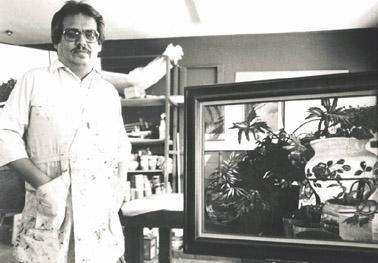 Vasquez was born on May 25, 1939 in the historic mining town of Jerome, Arizona. His father worked for Phelps-Dodge Copper mines; and in the early 1940s his family moved to Orange, California. His interest in art was evident as early as grade school where he would replicate comic book styles to create his own comics based on stories his father told about the Mexican Revolution, according to Wikipedia.
Vasquez exhibited his work in many museums and private galleries, including the historic Chicanarte at the Los Angeles Municipal Art Gallery (1975); A Traves de la Frontera exhibition in Mexico City (1984); Chicano Art: Resistance and Affirmation at the UCLA Wight Gallery (1990), and Three Faces of Latino Art at the Caged Chameleon Gallery, Santa Ana (1996), according to UCSB.
Vasquez taught in the art department at Rancho Santiago Community College. From 1985 to 1988 Vasquez managed a major public arts program for the Bowers Museum of Cultural Art, the California Arts Council and the City of Santa Ana. This included creating an eighty-five foot mural at the Orange County Transportation Center in Santa Ana. In 1996 Vasquez received an Artists Fellowship from the Adolph and Esther Gottleib Foundation in New York to support his continued documentation of the Chicano experience in Southern California.