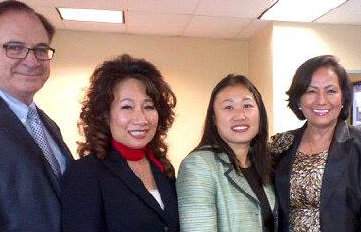 Rosario Marin, who worked for Gov. Wilson during the Prop. 187 campaign, is now promoting Roman Reyna
Gov. Jerry Brown signed legislation Monday that repeals unenforceable provisions of Proposition 187, the two-decade-old measure that sought to withhold public services from immigrants in the country illegally, according to the L.A. Times.
Ironically Santa Ana Councilman Roman Reyna announced today that Rosario Marin, a Republican who served as President George W. Bush's U.S. Treasurer, would be the keynote speaker at a Reyna for Mayor campaign reception on Sep. 23.  Marin worked as Governor Pete Wilson's chief of Legislative Affairs for the Department of Developmental Services starting in 1996 and in 1997, she was named deputy director of Govern Wilson's Office of Community Relations. In that position Marin had to defend the administration's support for Prop. 187, according to Wikipedia.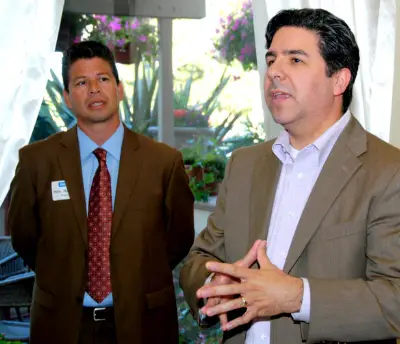 Roman Reyna enraptured by his old friend Carlos Bustamante, the last Republican to serve on the Santa Ana City Council
Talk about awkward timing. Just as Gov. Brown is flushing away what remains of Prop. 187, the lady who promoted 187 is now promoting Reyna for Mayor of Santa Ana.  But hold the presses, Marin also resigned in shame back in 2009, from a $175,000-a-year post in the Gov. Schwarzenegger administration, after the L.A. Times revealed that she had earned tens of thousands of dollars giving motivational speeches while working for Schwarzenegger. She was paid to speak by two pharmaceutical companies, Pfizer Inc. and Bristol-Myers Squibb Co., that had business before her agency within the same period.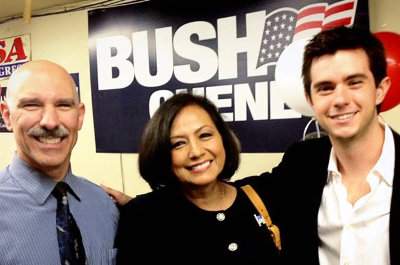 Rosario Marin was also part of the Bush Cheney Administration
Why in the world is Reyna hanging out with the likes of Marin?  Well don't forget that Reyna's ally on the City Council, David Benavides, honored Minuteman Lupe Moreno a few years ago, after she led a right-wing takeover of the City's 4th of July event.  We dubbed that scandal "Hatergate" and it exploded.  The uproar over that disaster compelled the City of Santa Ana to take over the 4th of July event from Moreno and the other Tea Partiers who had seized control.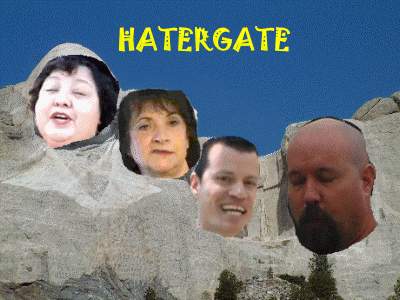 Reyna's reception by the way is not being held in Santa Ana.  It is being hosted by Don Garcia, the former Mayor of Aliso Viejo, who came in dead last place in 2012, according to Smart Voter.  Garcia has since moved to Irvine and the Reyna party will be held at his home, located at 40 Salt Bush.
Reyna's reception is being hosted by a committee that includes top Republican funder Dale Dykema, a longtime member of the Orange County Lincoln Club; and Tina Aldatz, another Republican funder who is a member of the GOP's New Majority.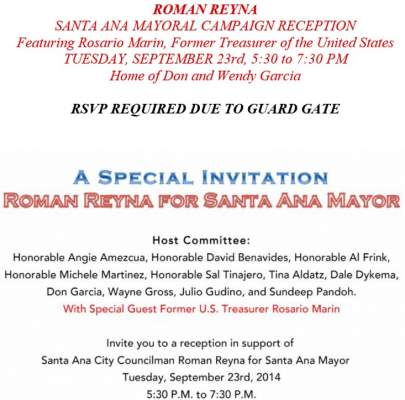 For years Mayor Pulido's detractors have accused him of being too close to the Republicans, but what are we to make of Reyna now that he has been caught red-handed hanging out with a bunch of Republicans in Irvine?
And why did Reyna think any of this was a good idea when he is running for office in an overwhelmingly Democratic city?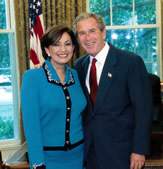 But this mess gets even worse.  Why are Santa Ana Council Members Angie Amezcua, David Benavides, Michele Martinez and Sal Tinajero attending this event and hanging out with a Prop. 187 supporter who had to resign in disgrace from the Schwarzenegger administration?
If you would like to express your disgust with the actions of these Council Members please contact them right away and give them a peace of your mind: