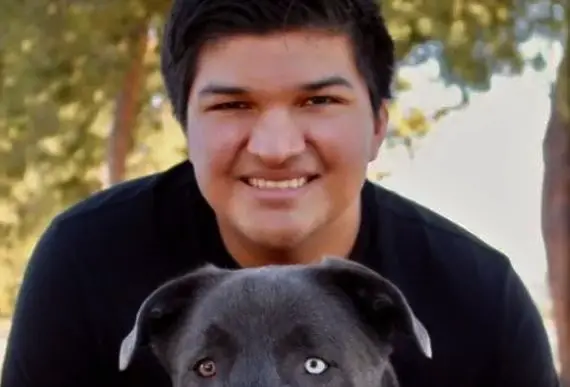 Sitani Pinomi, 40, a repeat drunken driver is facing second-degree murder, among other DUI-related charges, in connection with the May 19, 2021 traffic death of Aden Alexander Uriostegui, who was crossing at the Tustin Street and Heim Avenue intersection.
Deputy O.C. District Attorney Brian Orue told an Orange County Superior Court jury that Uriostegui was walking on a green light when Pinomi crashed into the teen with his Ford F-250 pickup with such force that Uriostegui was sent "flying" nearly 200 feet before landing in the roadway.
Orue also told the jurors that the only reason Uriostegui is dead is the actions of the defendant, Pimomi.
Surveillance video from a passing bus showed Uriostegui, who worked at a nearby Starbuck's, waiting for a green light to cross the street, and a driver who was waiting on Uriostegui in order to make a left turn also reported that Uriostegui was walking within the intersection. Uriostegui was apparently on his way to his home in a nearby neighborhood.
Pinomi told the police that he had been out celebrating his recent birthday at a bar and nightclub in Anaheim, and he had five to seven mixed alcoholic drinks before trying to drive back to his home in Orange, according to Orue.
Orue also said that Pinomi admitted to speeding and a blood test taken several hours after the fatal collision found that Pinomi had a blood alcohol level of 0.10, which is above the legal limit for driving.
The jury heard an officer ask Pinomi, via footage from the officer's body-worn camera, "Be honest with me, do you feel the effects of the alcohol?"
Pinomi then replied to the officer that "I"m (expletive) up," and he repeated that phrase several times.
A group of Good Samaritans, including a registered nurse, tried to help Uriostegui after the collision but he was pronounced dead minutes after the collision.
The nurse recalled that a seemingly distressed Pinomi standing over Uriostegui following the collision.
Pinomi previously pleaded no contest to a pair of DUI cases in 2006 and 2007. At the time he was given a formal warning — known as a Watson Advisement — that driving under the influence is dangerous to human life and that if he continued to do so and struck and killed someone he could be charged with murder.
Madeline Berkley, Pinomi's Public Defender, denied that what Pinomi did rose to the level of murder.
Berkley told the jurors that "This case is so sad, and there is no question mistakes were made by my client. But just because there is a loss of life doesn't mean there was a murder."
Berkley also told the jurors that the case "wasn't as clear cut" as Orue had made it out to be.
"You will have to decide what my client was thinking the night this happened," said Berkley.
Uriostegui is described in a GoFundMe page created after his death as a young man who was as a hard worker and was "excited about college and buying his dream car" and who "often talked about how proud he was of his family."