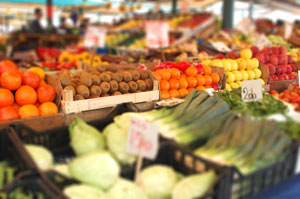 FOR IMMEDIATE RELEASE: FEBRUARY 2, 2011
CONTACT: JENN STARNES, 949-724-6574
POETRY AND PRODUCE AT GREAT PARK FARMERS MARKET
Sunday afternoon fare provides outdoor arts alternative to Super Bowl
IRVINE – If Super Bowl parties aren't your thing, the Orange County Great Park offers an outdoor arts alternative – complete with great food, live music and now, poetry. This Sunday, two of the Southland's most acclaimed poets will share their literary works of art with Great Park Farmers Market shoppers this Sunday, February 6th from noon to 2 p.m. The poets will join the regular lineup of live music, gourmet food items and food trucks available every Sunday.
"This Sunday, visitors can enjoy poetry, fresh produce, live music and gourmet food, all in one park," says Larry Agran, Chair, Orange County Great Park Board Corporation. "Offering these experiences at the Great Park is part of our vision to make this a unique community space."
Two poets will read their works on Sunday. Ben Trigg is the co-host of Two Idiots Peddling Poetry, the only weekly poetry reading in Orange County. Carine Topal writes and teaches in Los Angeles, and has anthologized the poetry of special-needs children.
"What distinguishes both Ben's and Carine's work is its sense of adventure and its foundation in everyday moments of life," said Michael Miller, Moon Tide Press publisher. "Flip through their collections and you'll find Picasso and Snoopy, adolescence and old age, passages pondering mortality and razzing the team the Angels beat in the World Series."
The Great Park Farmers Market features fresh cut flowers, gourmet foods, artisans' wares, and a rotating lineup of gourmet food trucks. After the Farmers Market, visitors can enjoy the Farm & Food Lab, free rides on the Great Park Carousel, and free rides on the Great Park Balloon (weather permitting). Team Kids will also be out at the Farmers Market, with games on the lawn near the Farm & Food Lab.
The Great Park Farm is part of the Park's current development project, encompassing more than 200 acres. Large-scale development is evident upon entering the Park, which remains open during construction and expansion.
The Orange County Great Park is open Thursdays and Fridays, 10 a.m. to 10 p.m., and Saturdays and Sundays, 9 a.m. to 10 p.m. The Great Park Farmers Market is open Sundays from 10 a.m. to 2 p.m. For more information, go to www.ocgp.org
About the Great Park
The Orange County Great Park, with its 1,347-acre master plan, is the focal point of the redevelopment of the publicly-owned portion of the 4,700-acre former Marine Corps Air Station, El Toro. The Great Park is currently 27.5 acres and includes an iconic tethered helium balloon that rises 400 feet in the air, providing an aerial view of Park development. A $70 million development plan to expand the Park to more than 200 acres is currently underway. The plan will build out a core section of the Park for the most immediate and wide-ranging public benefit, including the initial components of the sports park, a 114-acre agricultural area, and an art and culture exhibition space. For more information, please go to www.ocgp.org