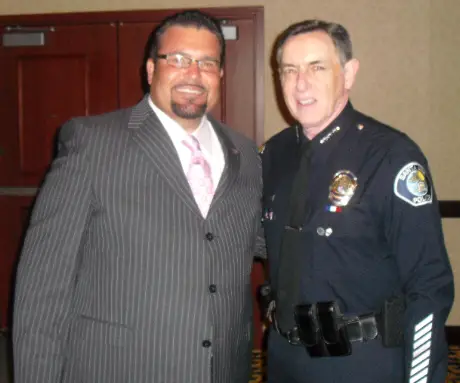 UPDATED: Santa Ana Mayor Miguel Pulido found four votes on the City Council last night, but as it turned out that was only so the City Attorney could review the contract that will be offered to acting City Manager Paul Walters, to make him the permanent City Manager.  The decision to give him that post will be done in closed session but the contract, per the city charter, will have to be voted on in a City Council meeting – and Pulido will need five votes to approve that contract.  That may not be easy as some on the Council want Walters to step down as Chief of the Santa Ana Police Department, and there is some debate as to whether or not Deputy Chief Carlos Rojas would become the interim Chief during a national search to replace Walters.
I reported earlier this weekend that Mayor Miguel Pulido and the rest of Santa Ana City Council had taken away the interim label from City Manager Paul Walters, and that he will also continue to serve as our Chief of Police.  However I received a call from a city hall insider later today that turned this story on its head.
As I now understand it, the City Council is split on this and some of the Council Member still want to engage in a national search for a new City Manager.  Apparently there are some forces at the SAPD that also want to move on with appointing a new Chief of Police, in Deputy Chief Carlos Rojas.  However that too has become a divisive matter as there are some at city hall who want to engage in a national search for a new Chief of Police and others who want Walters to continue to serve in that capacity.  Their argument is that the SAPD will lose a lot of clout if Walters is replaced as Chief of Police by Rojas. 
Walters would appear to have earned a shot at serving as our permanent City Manager.  He has done a great job thus far in an interim capacity – pulling the city back from the brink of financial disaster.  His key achievement so far has been to outsource the Santa Ana Fire Department to the O.C. Fire Authority without losing any firemen or closing any fire stations – saving the city millions in the process.
However some of the veterans in the former Santa Ana Fire Department are quite sore about what happened to them.  And many members of the SEIU are royally pissed off because they feel that Walters has protected the SAPD from cuts.  There are some who want to see the SAPD outsourced to the Orange County Sheriff's Department.  I don't see that happening but if the city ends up needing to come up with more money to resolve their budget deficit, that option should be explored.
Why did this story float to the surface?  I am told that Mayor Pulido is trying to come up with enough votes on the Council to get Walters confirmed on a permanent basis.  However he is having a tough time coming up with enough votes.  This matter may have to wait until after the June 5 Open Primary.  It may linger on after that, from what I am told.  And the November general election could see a change in the composition of the City Council.  Mayor Pro Tem Claudia Alvarez apparently will run and challenge her opponents to take her to court if they want to remove her from the ballot, as some argue that she is termed out.  And Council Member Carlos Bustamante will likely face at least one challenger in the form of his fellow Republican, Charles Hart. 
Stay tuned as this story continues to develop.