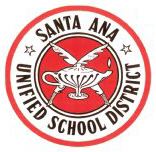 FOR IMMEDIATE RELEASE
Contact: Deidra Powell-Williams, Chief Communications Officer, (714) 558-5555

Santa Ana Celebrates Overall Growth of API in last five years
SANTA ANA, CA – August 29, 2013 – In just five years, the Santa Ana Unified School District (SAUSD) has made significant growth districtwide on the State Academic Performance Index (API) according to results recently released by the California Department of Education.
In 2009, SAUSD had an overall API average of 706 points. Since then, the District has increased its average to 742, making a 36-point jump towards the State target of 800. Out of 56 schools, 1 school has an API above 900, 13 have an API between 800 and 899 and 30 have an API between 700 and 799.
"We are pleased that our schools are moving towards the State target. It's a demonstration of the dedication and commitment of our entire school community for student success," said Charles E. McCully, Interim Superintendent. While SAUSD celebrates its overall growth, administration is paying particular attention to those schools that experienced a decrease. "We recognize that whenever you have a steady pattern of growth, it is likely that at some point you may experience a decrease like our district and many districts statewide have experienced this year. With the collaboration of our principals, teachers, and school community, we will continue to provide exceptional instruction to ensure that all schools make steady progress towards academic excellence."
SAUSD's goal is to prepare all students to be college and career ready. The District's implementation of the Common Core State Standards is one area of focus to ensure that all students are truly prepared for the job skills of the 21st century. Through the Common Core, students will gain a deeper understanding of content, be able to demonstrate their knowledge of the subject matter through application, problem solve effectively independently and in groups, and make their own self-discoveries. With the implementation of the Common Core, the District anticipates increased student achievement overall.
Santa Ana Unified School District (SAUSD) educates approximately 56,000 students throughout the Santa Ana community. The K-12 school district is the largest in Orange County and the second largest employer in Santa Ana, with approximately 4,500 educators and staff members. The school district boasts 28 California Distinguished Schools and four National Blue Ribbon Schools.
For more information about AYP and API, visit the California Department of Education's website: www.cde.ca.gov. For questions specific to SAUSD, please contact the Communications Office at (714) 558-5555.
###
The API is a single number, ranging from a low of 200 to a high of 1000, which reflects a school's, an LEA's, or a student group's performance level, based on the results of statewide assessments. Its purpose is to measure the academic performance and improvement of schools. The state has set 800 as the API target for all schools to meet. Schools that fall short of 800 are required to meet annual growth targets until that goal is achieved. API targets vary for each school and student group.
The API is calculated by converting a student's performance on statewide assessments across multiple content areas into points on the API scale. These points are then averaged across all students and all tests. The result is the API. An API is calculated for schools, LEAs, and for each student group with 11 or more valid scores at a school or an LEA.
The key features of the API include the following:
The API is based on an improvement model. The assessment results from one year are compared to assessment results from the prior year to measure improvement. Each school has an annual target, and all numerically significant student groups at a school also have targets.
The API requires student group accountability to address the achievement gaps that exist between traditionally higher- and lower-scoring student groups.
The API is a cross-sectional look at student achievement. It does not track individual student progress across years but rather compares snapshots of school or LEA achievement results from one year to the next.
The API is used to rank schools. A school is compared to other schools  statewide and to 100 other schools that have similar opportunities and  challenges.
The API is currently a school-based requirement only under state law. However, API reports are provided for LEAs in order to meet federal requirements under the federal Elementary and Secondary Education Act (ESEA).