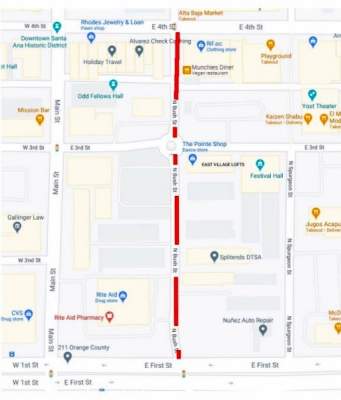 Starting Monday, September 28, 2020 from 7 a.m. to 5 p.m. each day, Northbound Bush Street between First Street and Fourth Street will be closed to accommodate construction of the Citywide Sewer Main Improvements Project. We expect this work to be completed by mid-November. Please pardon the dust and granular materials produced by the project, as the cleanup will be ongoing.
We recommend using alternate routes and plan for possible delays since this street closure will affect traffic flow. All businesses on Bush Street will have access and we will do our best to keep any inconvenience to you at a minimum.
Should you have issues or questions during the construction activities, please contact City Inspector, Cris Valenzuela at (323) 715-2339 or Senior Civil Engineer, Michael Ortiz at (714) 615-0892. We apologize for any inconveniences and thank you for understanding.