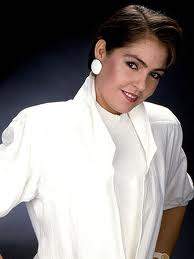 City of Santa Ana, Downtown Orange County Community Alert:
Lupita D'Alessio's Great Return to the United States in Cinco de Mayo's Calle Cuatro
May 4th and 5th in Santa Ana, CA Sentidos Opuestos, Amandititita and many more stars take the Calle Cuatro Stage
SANTA ANA, CA (April 30, 2013) – Lupita D'Alessio returns to United States stages after a long absence. This return will take place during the largest Cinco de Mayo festival "Calle Cuatro" which happens in the Heart of downtown Santa Ana, CA May 4th and 5th.
Her fans will no longer have to wait, "La Leona Dormida" or Sleeping Lioness as she's nicknamed in the artistic world, has finally awoken and will be bringing her greatest hits and taking us on a musical journey through the decades as well as interpreting some of her newest productions.
As it now has become tradition, Santa Ana's Calle Cuatro distinguishes itself by presenting huge Latin Stars and this time there is no exception because alongside the legendary Lupita D'Alessio, the famous duet Sentidos Opuestos with Alessandra Rosaldo and Chacho Gaytan, who recently completed a US tour, will also be performing.
Directly from her popular international TV show "Quien tiene la Razon", and with over a 25-year career, Carmen Jara will also join the celebrations. Who will be singing her hits: "Reina y Cenicienta" "Como tu mujer" and many more. The charismatic Sonorense demonstrates once more why she continues to be amongst the public's favorites.
An incredible voice and elegance characterizes Korina Lopez, named by her fans as La Dama de la Banda, will also be taking the festival Calle Cuatro as her own along with her banda sinaloense and mariachi. Playing her special touch with songs "Hasta Aquí" and her recent single "Te Felicito". With 3 nominations to "Premios Oye" and sharing her most recent production "Mala Fama" Singer songwriter Amandititita will sure to make her fans dance with her musical fusions of Cumbia, Rap and Rock. "Metro Sexual" and "Mala Fama" will be highlights of her set.
"De Corazón a Corazón" has become one of Nene Torres' biggest hits to date. Which has turned Nene Torres as one of the most exciting young stars coming from Mexico. The Tapatio songwriter has been stealing hearts in all of Mexico and now is ready to conquer the United States and will be making his much-anticipated debut at Calle Cuatro.
Music, games and great artists are what people can expect May 4th and 5th in Santa Ana, California and of course completely FREE!
www.callecuatro.com
www.mxlivent.com
For more information:
TONY AGUILAR- Public Relations
Telephone: (562) 774-6438
email: tony.aguilar@mxlivent.com
DEE AGUIRRE- Booking
Telephone: (213) 471-0737
email: dee@mxlivent.com
###
**********************************************************************************************************************************************
El Gran Regreso de Lupita D'Alessio a Los Estados Unidos en el Festival Calle Cuatro
El 4 y 5 de Mayo en Santa Ana, CA Sentidos Opuestos, Amandititita y muchas estrellas más compartirán el escenario en Calle Cuatro
SANTA ANA, CA (30 de Abril 2013) – Lupita D'Alessio regresa a los escenarios de la Unión Americana tras una larga ausencia. Y esto será dentro del marco del festival más grande del país "CALLE CUATRO" el cual se realiza en el corazón de la bella ciudad de Santa Ana, CA, los días 4 y 5 de Mayo.
Sus fans ya no tendrán que esperar más, "La Leona Dormida", como es llamada en el medio artístico, finalmente despertó y llevará al escenario un remolino de éxitos haciendo un recorrido musical por varias décadas además de interpretar algunos temas de su nueva producción.
Como ya es tradición, CALLE CUATRO de Santa Ana, California se caracteriza por presentar grandes estrellas y esta vez no es la excepción porque además de la presentación de la legendaria Lupita D´Alessio también actuará el dueto Mexicano Sentidos Opuestos integrado por Alessandra Rosaldo y Chacho Gaytán, quienes recientemente fueron ovacionados en diferentes ciudades de la Unión Americana gracias a su exitosa gira "Zona Preferente".
Directamente desde "Quien tiene la Razón" uno de los programas más vistos en la televisión de habla hispana a nivel internacional y con más de 25 años de carrera llegará Carmen Jara. Quien sin duda deleitará a todos sus seguidores con grandes éxitos como: "Reina y Cenicienta" "Como tu mujer" y muchos más. La carismática Sonorense demostrará una vez más por qué sigue siendo una de las favoritas del público.
Con su gran voz y la elegancia que la caracterizan, Korina López, nombrada por sus seguidores La Dama de la Banda, también hará lo suyo en el festival CALLE CUATRO acompañada de su banda sinaloense y mariachi. Poniendo un toque especial a este evento con éxitos como "Hasta Aquí" y su más reciente sencillo "Te Felicito".
Con 3 nominaciones a los "Premios Oye" y estrenando su tan esperada producción "Mala Fama" llegará la cantautora Amandititita. Acompañada de su banda pondrá al público a bailar con sus fusiones musicales de Cumbia, Rap y Rock. Canciones como "Metro Sexual" y "Mala Fama" formaran parte de su repertorio musical en este tan esperado festival.
"De Corazón a Corazón" ha sido uno de los grandes éxitos que a Nene Torres sin duda alguna le ha dejado grandes satisfacciones en México. Ahora el cantautor tapatío, después de robar suspiros y romper corazones en toda la República Mexicana está decidido a conquistar el territorio Americano y que mejor escenario para debutar que en CALLE CUATRO.
Música, diversión, grandes artistas y mucho más es lo que el público de Santa Ana, California podrá disfrutar los días 4y 5 de Mayo, completamente GRATIS!
www.callecuatro.com
www.mxlivent.com
Para mas información:
TONY AGUILAR-Relaciones Publicas
Teléfono: (562) 774-6438
Correo: tony.aguilar@mxlivent.com
DEE AGUIRRE- Contrataciones
Teléfono: (213) 471-0737
Correo: dee@mxlivent.com
###