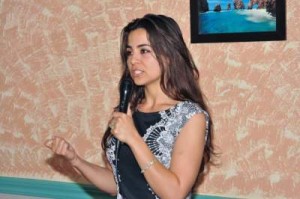 Former Santa Ana Council Candidate Karina Onofre is hosting a meeting of the reopening chapter of the Santa Ana Republican Assembly, on May 1, at 7 pm, at her office, located at 726 S Main St., in Santa Ana, according to her Facebook page.
The new CRA State President, John Briscoe, will be their guest speaker.  He will address "strengthening our faith and family Republican party."
Onofre is now a District Representative for Senator & Minority Leader Bob Huff – whose district covers parts of OC, LA and SB counties.
I don't think the GOP will find renewal in California as long as they continue to cling to a socially conservative platform.  They would be better served sticking to issues of fiscal conservatism.
I also find it amusing that this GOP organization is relaunching on May Day.  In 2006, May 1 was chosen by mostly Latino immigrant groups in the United States as the day for the Great American Boycott, a general strikeof undocumented immigrant workers and supporters to protest H.R. 4437, immigration reform legislation which they felt was draconian. From April 10 to May 1 of that year, millions of immigrant families in the U.S. called for immigrant rights, workers rights and amnesty for undocumented workers. They were joined by socialist and other leftist organizations on May 1.
There is in fact a May Day March set for May 1, in Santa Ana, with a theme of immigration reform.
The GOP is currently in dire straits in great part because the Republicans chose to bash Mexican immigrants, destroying the good will created by President Ronald Reagan when he signed the Federal Amnesty law that gave so many immigrants a chance to become U.S. citizens.