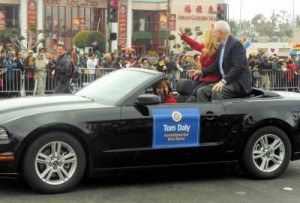 Our new Assemblymember, Tom Daly, has been rather quiet since he replaced Jose Solorio, in the 69th Assembly District.  I saw him at this year's Tet Parade and now he is finally getting around to meeting with the people of Santa Ana.  Daly is hosting a "Capitol in Your Corner" event on Friday, March 15, 2013, from 9:00 a.m. to 10:30 a.m., during the workday of course, at the Librería Martinez de Chapman University, located at 216 N. Broadway, in Downtown Santa Ana.
If you need more information about this event you may contact Daly's office via email to Nadia.Villafana@asm.ca.gov or by calling 714-939-8469.
To contact Assemblymember Tom Daly, please click here.
Be sure to ask Daly if he supports unraveling Prop. 13…as many of his Democratic colleagues do.