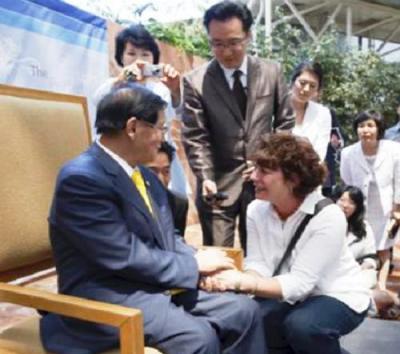 Editor's Note: The press release below is a follow-up to the appearance by Korean bible instructor Man Hee Lee at the Christ (formerly Crystal) Cathedral in Garden Grove on July 21.  The New Santa Ana blog's coverage of that event was referenced in a Washington Times article about Lee that was published on July 31.
FOR IMMEDIATE RELEASE: August 5, 2012
Korean Instructor Lee Man Hee from Shinchonji Testifies to the Revealed Fulfillment of Revelation
July 23, 2012
GARDEN GROVE, Calif. — Korean Christian instructor Man Hee Lee knocked out more than one hundred pastors and thousands of Christians coast to coast with his powerful testimony about the Book of Revelation's fulfillment. His California Open Bible Seminar tour began at Crystal Cathedral in Garden Grove, CA drawing over 1,500 attendees who came to hear his testimony and concluded in central California where he spoke to over a 100 pastors at the DoubleTree Hotel in Bakersfield, CA.
The seminar's content regarded the events of fulfillment that were testified to as seen, heard, and commanded, things that never happened before and will never happen again.
In South Korea, where church membership has been decreasing dramatically, more than three thousand believers come to Shinchonji church every month to hear the Revealed Word from Instructor Lee, and the number is increasing rapidly.
Bakersfield pastors specially invited Instructor Lee, 82, to make their city his last stop on a world speaking tour, in which he gave seminars in Garden Grove, Calif., Los Angeles, New York, Belgium and Germany over the last two months. This year marks his second invitation to speak in Europe, and it seems many more churches and denominations around the world are eager to invite him in the near future.
Instructor Lee said the Revealed Word testified at this seminar is the testimony given to believers who have been waiting for the fulfillment of Jesus' promise. The promises of Jesus fulfilled in South Korea according to the prophecy, "…the gospel of the kingdom will be preached in the whole world as a testimony to all nations, and then the end will come." It was clear the Holy Spirit was working through the instructor as he testified to the Revealed Word.
A Q&A time after the seminar allowed Instructor Lee to clearly answer every single question from attendees, addressing even more questions through interviews with the press afterward. All types of churches and denominations are rushing to invite Instructor Lee to speak. Many pastors are now participating in a follow-up class that further investigates the Revealed Word and Revelation.
The purpose and will of God in the New Testament is to create God's kingdom, the 12 Tribes. Once this is fulfilled, God's 6,000 years of work comes to a completion. The highest Truth of humanity, that God is with, is being testified to at Shinchonji, God's promised Kingdom.
Seminar Instructor: Christian Instructor Man Hee Lee of South Korea
For more information:
Phone: (310) 564-6158
Email: openbibleseminar@gmail.com
Website: www.worldopenseminar.com
###