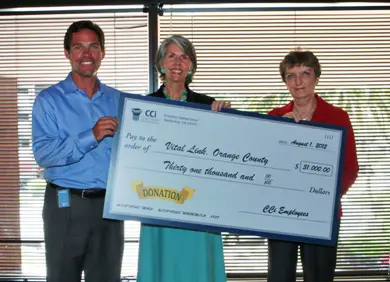 This week, Vital Link OC, an organization that works with Orange County high school students, received a $31,000 donation from employees of Santa-Ana-based Corinthian Colleges. The proceeds were raised through a silent auction at Corinthian's annual employee picnic last month.
Vital Link's mission is to be the link between business and education to prepare students for the successful transition to a meaningful career.
Vital Link's vision is to serve as a Business/Education facilitator and provide quality support services to career and technical educators, thereby providing current, relevant and meaningful information to all students to help them choose their career.
For Students
Vital Link provides experiences, resources and tools to assist students to identify their career options and explore, discover, and connect to their future career.
For Educators and Business
Be the "go to" place for business and education to connect bringing relevance into the classroom and helping develop a well prepared workforce.
Corinthian College's mission is to help students prepare for careers in demand or to advance in their chosen field. With more than 96,000 students as of March 31, 2012, they are one of the largest post-secondary education companies in North America. They offer short-term diploma programs and associate, bachelor's, and master's degrees. Their main program areas include health care, criminal justice, business, information technology, transportation technology and maintenance, and construction trades. In addition, they offer online degree programs that include business, accounting, criminal justice, paralegal and information technology.
Corinthian Colleges was founded in 1995 and they completed an initial public offering in 1999. As of June 30, 2011, they had approximately 16,600 employees in North America, including 5,450 full-time and part-time faculty members.