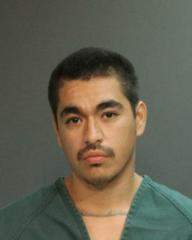 Armando Carachure, 27, a member of the Townsend Street gang in Santa Ana was sentenced Friday by Orange County Superior Court Judge Kimberly Menninger, to life in prison for stabbing a 14-year-old rival, Fidel Armando Guajardo, to death during a confrontation at Jerome Park on June 21, 2013, according to the O.C. Register.
Guajardo was a member of a street gang that was allied with another gang that had a "loose rivalry" with Carachure's gang.
Armando Carachure and a 12-year-old boy in his gang approached Guajardo and asked what gang he was affiliated with, according to the Orange County District Attorney's Office, as reporetd by My News LA.
According to a statement from the Orange County District Attorney's office (OCDA), Guajardo was on a bike and did not do anything to spur the 7:20 p.m. attack–other than answer with a rival gang's name when Carachure asked which one he belonged to.
That led to Guajardo being chased to Townsend Street, where he was pushed against a vehicle and stabbed repeatedly in the back. He collapsed in the street, and his attacker fled. Guajardo died from his stab wounds later that evening at UCI Medical Center in Orange, as reported by the OC Weekly.