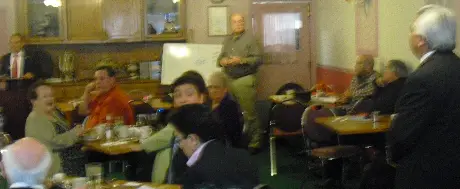 I attended the Los Amigos press conference today, which was held in their usual meeting place – a German restaurant in Anaheim.  As I expected, it was a giant waste of time.  I wrote about their complaints yesterday.  You can read that post by clicking here.
And I was not surprised to see that failed mayoral candidate Alfredo Amezcua was pulling all the strings.  He and his assistant kept pulling the Chairman of Los Amigos, Amin David, aside, ostensibly to whisper directions to him.
The press conference was conducted by my friend Francisco Barragan, who did a good job with very weak material. Essentially he is asking the Orange County Grand Jury to investigate the Santa Ana City Council, but none of his charges are at all salient.  They are all groundless.
I had the opportunity to ask questions and I took advantage of that.  Amezcua, of course, got up and left the room as soon as I started asking questions.
I asked if Barragan was aware that Assemblyman Jose Solorio was on the Santa Ana City Council in 2002, when the severance package with now retired City Attorney Joe Fletcher was negotiated.  He was not.  I asked if he intended to investigate wht Solorio did on that Council.  His reply was that Los Amigos was asking for everyone to be investigated – but he only called out Mayor Miguel Pulido and Mayor Pro Tem Claudia Alvarez by name.
Barragan also complained that SAPD Police Chief Paul Walters called voters, via a robo-call, during work hours.  I then asked if Barragan was aware that robo calls are made by computers and that Chief Walters was not personally on the phone with the voters.  He appeared to be flustered by that question.
He then played the audio of the robo call, wherein Walters asked why Amezcua was insisting that he was endorsed by Congresswoman Loretta Sanchez, when she in fact endorsed Mayor Pulido.  That is a legitimate good point.  Sanchez did NOT endorse Amezcua.  Barragan insisted that she "supported" Amezcua, but if you look up the word "endorse" in a dictionary, you will find it is synonymous with the word "support."  This complaint was just more splitting hairs by Los Amigos!
It should be noted that former LAPD Chief William Bratton publicly endorsed L.A. Mayor Antonio Villaraigosa, the last time he ran.  So did L.A. County Sheriff Lee Baca.  Public safety officials often lend their support to politicians.  Walters did nothing wrong and he did not deserve to be slandered by Los Amigos.
At one point, Voice of OC reporter Adam Elmahrek mentioned that Supervisor John Moorlach said that back-pay for public employees was illegal.  Of course Barragan agreed.
I then asked Barragan if that means Los Amigos is against the back-pay pensions that the O.C. public employees received a few years ago – that of course is what Moorlach's comment, which Elmahrek took out of context, was about.
And again Barragan was quite flustered by my question.  I felt bad for him.  He is a good man and deserves better than to be publicly used by the likes of Amezcua.
Finally, Barragan refused to take any more of my questions, so I left.  I was courteous and professional but nevertheless one of those in attendance asked if I was there as a reporter or as an activist.  I said both.  I was there as a reporter and as a twenty year resident of Santa Ana.
The people of Santa Ana voted in November to keep Mayor Pulido in office.  It is sad to see the Los Amigos bunch wasting our time with a public display of sour grapes.  Even O.C. Register reporter Doug Irving noticed that.  He asked Barragan if Los Amigos would still be holding this press conference if Amezcua won.  Barragan said yes, but we all knew right away that this was all about Amezcua spending a quarter million and still getting rejected by the voters.