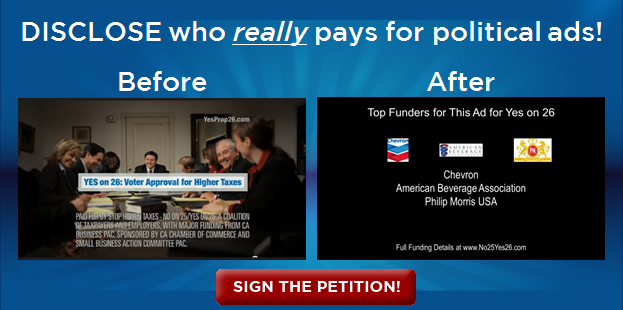 Come to the Orange County campaign kickoff for SB 52, the California DISCLOSE Act! Join SB 52 supporters including Assemblymember Sharon Quirk-Silva, Community College Trustee and former Assemblymember Jose Solorio, Costa Mesa Councilmember Sandy Genis, and local activist leaders to kick off the local legislative campaign for the California DISCLOSE Act.
WHEN: March 23rd, 2013 12:00 PM through 2:00 PM
WHERE: The Delhi Community Center, located at 505 East Central Ave, in Santa Ana.
SB 52, the California DISCLOSE Act, would change the Big Money game and fight back against unlimited hidden spending on campaigns by letting voters know who REALLY is paying for political ads — on the ads themselves. Continue reading→